Violin-playing protester freed from jail in Venezuela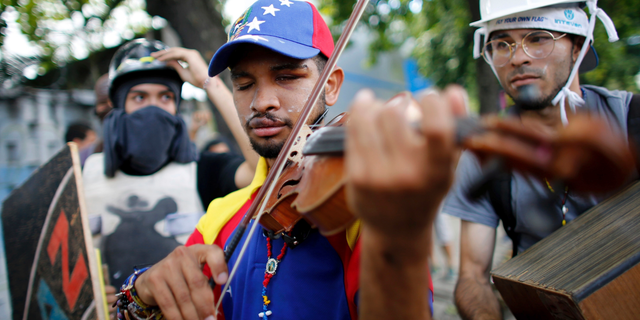 CARACAS, Venezuela – A Venezuelan violinist who is a well-known face of protests against his country's socialist government has been freed after more than two weeks in prison.
The office of Venezuela's chief prosecutor said Tuesday night that a court granted its request for Wuilly Arteaga to be let out on parole. He was detained last month during a protest and his lawyers have said he was beaten with his violin while during custody.
The 23-year-old musician skyrocketed to fame after he and his violin were dragged to the ground by national guardsmen during a confrontation with protesters.
Arteaga was often seen playing somber renditions of Venezuela's national anthem while standing amid clouds of tear gas. He even was invited to Washington to perform for members of Congress.