Video appears to show Sudan's troops bombing sole hospital in border region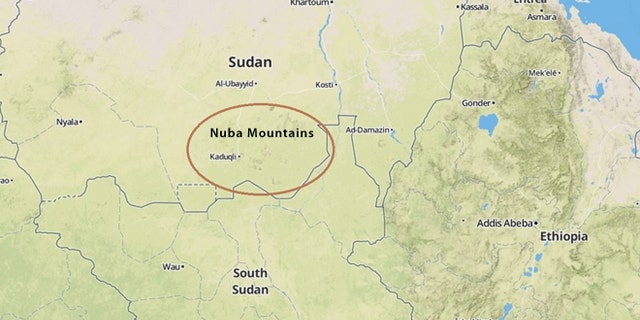 Sudanese forces launched their most vicious attack yet on civilians and refugees, bombing a hospital in a mountainous region near the border with South Sudan, according to witness accounts and an activist group that took video.
Nuba Reports, an independent news site based in the Nuba Mountains along the border of Sudan and South Sudan, said the Mother of Mercy Hospital in the village of Gidel was bombed over two days last week in an attack that stunned even the region's most war-weary refugees and volunteers. Video provided by the group captured people running for cover as Russian-made Sukhoi and Antanov fighter jets roared overhead, one of several explosions and international aid workers expressing disbelief in the aftermath.
[pullquote]
"The following day, we thought, 'It must have been an accident,'" Ingrud Revaug, emergency project coordinator for Mother of Mercy, told Nuba Reports. "But it came again."
The 80-bed medical facility, which was functioning at triple-capacity at the time, was heavily damaged by the bombers, believed to have been dispatched by Khartoum. Five bombs fell on the first day and eight the next, according to Nuba Reports, a collective of local journalists who work with international aid workers in an area where international media is effectively barred. There were no serious injuries as the staff and those being treated were able to get into foxholes for safety with no major damage to any of the facilities.
For the past three years, the Sudanese forces have stepped up their attacks on civilians in the Nuba region, bombing houses, mosques, churches, schools and marketplaces. But striking the region's only hospital was seen by those on the ground as a new low.
"They want to drive people out of here," Dr. Tom Catena, the hospital's medical director, told Nuba Reports. "This is the only thing that makes any sense; there's nothing militarily here. There's no military objective to destroying this place."
[youtube N-Ly9iW1-t4]
Sudan had been embattled by civil war between the largely Muslim north and the predominantly Christian south for decades. A civil war ended in 2005 with the signature of a peace agreement which allowed the South of Sudan to become an autonomous region for six years until a referendum was held for South Sudan to become an independent nation in July, 2011.
But both nations have been unable to implement security and economic agreements over the last three years, leading to numerous conflicts in the region, including the ongoing war in the Sudan's western region of Darfur, where an estimated 500,000 people have been killed and nearly 3 million displaced since 2003. The Nuba mountains, where Mother of Mercy Hospital was bombed, is now home to thousands of refugees from Darfur.
While the Nuba Mountains straddle the two countries, most of the region lies in Sudan. But the population is largely opposed to the Khartoum-based regime of President Omar al-Bashir for either religious or political reasons.
Since April 2012, 1,371 bombs have been dropped on civilian targets in Nuba, according to NubaReports. Last year, Bashir's forces shifted to an especially barbaric tactic, dropping silent parachute bombs on civilians who had learned to seek cover at the sound of low-flying jets. The 820-pound parachute bombs float down silently, and detonation is delayed, a tactic that has proved to be destructive and deadly.
Making matters worse, since last month, thousands of Sudanese troops have surrounded rebel-held territory and taken control of towns in the north after a failed offense earlier this year.
"The attack on the hospital leaves no doubt that it is the intent of the Sudanese regime to target and terrorize civilians as a key feature of their military strategy," Justine Fleischner, a policy consultant for the Enough Project, told FoxNews.com. "The hospital provides critical lifesaving support to civilians in the war-torn Nuba Mountains region, including a children's ward and women's ward offering specialized care."
Those who live in the region say that drones had been surveying the area in the days before the bombing, but that they thought nothing of it since planes flying overhead and aerial bombings have become a common occurrence in the region.
The Mother of Mercy hospital is run by the Diocese of El Obeid, a religious organization operating there in defiance of Sudan's ban on international relief organizations. The hospital treats 150,000 patients per year and is the only option for people not in refugee camps.
This week, patients began slowly returning to the hospital after being transferred to nearby caves for protection. Other patients are in the bush and are being visited by doctors and nurses to treat them on site, according to Nuba Reports.
FoxNews.com's Perry Chiaramonte contributed reporting to this story.