Venezuela's AG who broke with Maduro says family is receiving death threats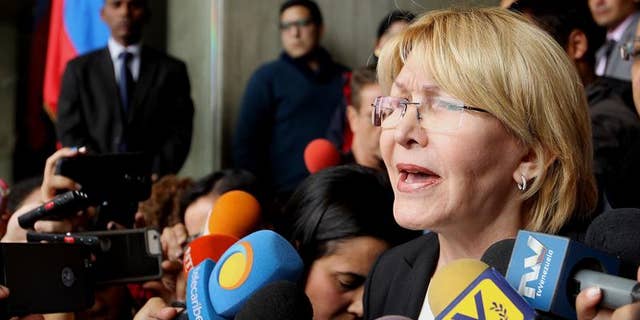 NEWYou can now listen to Fox News articles!
Venezuela's Attorney General Luisa Ortega Diaz said her family is receiving death threats and that the government of Nicolás Maduro would be to blame for "any damage" her loved ones were inflicted.
"I want to hold Venezuelan government officials responsible, especially from the Executive [branch] of anything that happens to my family," said the once firm ally of Maduro and now openly critical of the government.
"It is inadmissible that my family is being subjected to threats," she said in an interview with the radio station Union Radio.
She said her family members are being harassed, persistently followed by "patrol cars that look like [the Venezuelan intelligence service] Sebin's."
VENEZUELA COURT REJECTS CALL TO STOP CONSTITUTION REWRITE
"This is an issue that they have to resolve with me, not with my family," she noted.
A long-time government loyalist, Ortega Diaz broke publicly with the Maduro administration in late March when she decried a Supreme Court decision gutting congress of its last remaining powers.
Since then, the gulf between Ortega Diaz and the government has only grown, with her repeatedly questioning the validity of convoking a special assembly to rewrite the constitution without the proposal first facing a referendum.
VENEZUELAN 'DAUGHTERS OF CHAVISMO' EXPOSED LIVING LAVISHLY OVERSEAS
"It is the sovereign people who have the authority to convene" a constitutional convention, Ortega Diaz said last week.
Maduro's terms call for allotting a specific number of votes to specific population sectors such as the disabled, fishermen and retirees, as well as one per municipality. Analysts say those terms will heavily favor the government.
The nation's chief prosecutor is also accusing Maduro and his administration of "destroying the legacy" of the late President Hugo Chavez, the founder of the governing leftist PSUV party and mentor of the incumbent head of state.
"Chavismo is a current of thought, it's a philosophy of life, and this is the principal legacy of President Hugo Chavez," the attorney general said.
More than 60 people have been killed and 1,000 injured nationwide in a wave of unrest unleashed after the controversial Supreme Court ruling in late March.
The Associated Press contributed to this report.