Venezuelans shut down roads and highways as protests enter 4th week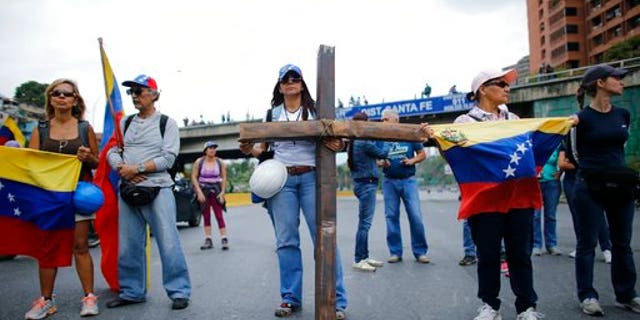 NEWYou can now listen to Fox News articles!
Hundreds of Venezuelans in more than a dozen cities around the country shut down main roads to express their anger with the increasingly embattled socialist administration of President Nicolas Maduro.
Caracas' main highway turned into a kind of public plaza, with protesters laying out picnics, reading books and reclining under umbrellas they brought to protect them from the blazing Caribbean sun.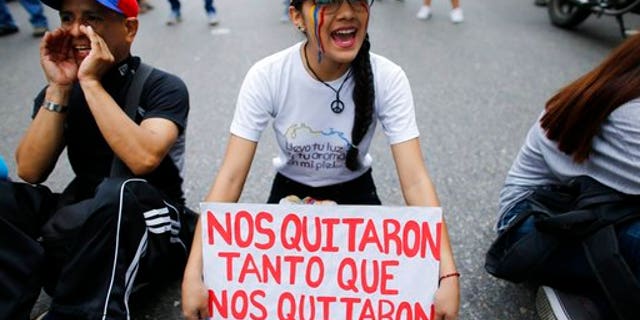 Retired professor Lisbeth Colina said she had chosen to participate in the sit-in for her grandchildren.
"The side that gives up is the side that loses," she said. "We must remain in the streets. I'm not scared of the repression they're throwing at us," she said.
"We want to be free. I'm here fighting for my children and my children's children," said Juan Carlos Bautista, 48, passed the afternoon playing dominos.
The protest movement is entering its fourth week, and has become increasingly deadly.
GM CEASES OPERATION IN VENEZUELA AS PLANT IS EXPROPRIATED
On Sunday, a 21st death was linked to the unrest that began almost a month ago over the Supreme Court's decision to gut the opposition-controlled congress of its powers. The Interior Ministry said that Almelina Carrillo died in a hospital after being struck on the head with a frozen water bottle thrown from a high rise during a pro-government rally last week.
Maduro on Sunday said he wouldn't give in to opponents and again urged them rejoin negotiations they broke off last December.
But opposition leaders are rejecting calls for dialogue and remain firm in their demand for immediate general elections.
VENEZUELA'S UNREST CLAIMS 21ST VICTIM AS NEW PROTESTS LOOM
"The government wants to use negotiations as a ploy to divide us, demobilize us, and win itself time," congress Vice President Freddy Guevara told reporters.
"This protest is an exercise in resistance and a test of our conviction. It's crucial that we stay here all day."
The AP and EFE contributed tpo this report.