Venezuelan Journalist Freed, Unharmed, Eight Days After She Was Kidnapped At Gunpoint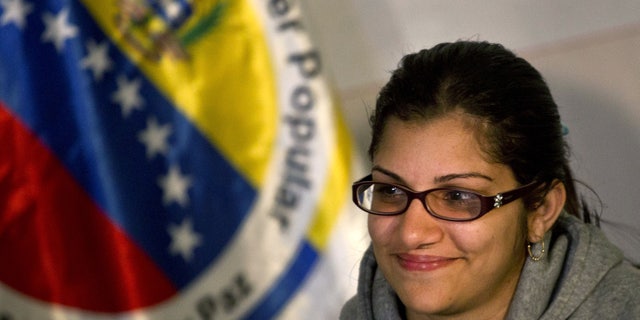 Venezuelan journalist Nairobi Pinto was freed Monday morning, eight days after she was kidnapped.
Globovision television station, where she works as correspondents' chief, said Pinto was freed in the town of Cua in Miranda state, 37 miles south of Caracas.
"Thank you for bringing this to a happy ending," the 29-year-old said in a news conference a few hours after her release. "Thank you all for the prayers, because I know many people were praying as I was. Without you I think that momentum would not have been achieved," she said.
The journalist spoke at a joint press conference with the Interior Minister, Miguel Rodríguez, who put and en to rumors by confirming kidnappers did make calls for ransom.
"There were calls, but they were kept confidential to preserve Nairobi's life," said the government official, who accused people who acted irresponsibly by suggesting the kidnapping had been a political vendetta orchestrated by the government.
"I insist: this is a matter of insecurity … I cannot provide more details," the woman said. "I can't say how many were there because I was always blindfolded. I was treated well, they never touched me, I always had three meals. But I could not see a face," she added.
The Interior Minister said there were no detainees because she was released at a hospital.
The release was announced on national TV earlier Monday. "She is alive, she is fine. She was found by civil protection staff from Urdaneta Township. She was treated and is now in the CICPC [local police headquarters]," said her colleague, Globovision journalist Daniel Guillermo Colina.
El Nacional newspaper reported that Pinto came on her own to a local hospital, where she was thoroughly examined by physicians.
On the Sunday afternoon Pinto was kidnapped, she was approached by a pair of hooded men right outside her home in Caracas. Her father witnessed the whole scene. "They had a gun on me. She was coming back from the grocery store and they took her," he said that day, visibly shaken.
Opposition leader Henrique Capriles also addressed the issue. After giving "thanks to God" for the release of the journalist, he asked not to forget the rest of Venezuelans who remain hostages.
Venezuela is plagued by high rates of kidnapping, which has targeted even foreign diplomats and professional baseball players. Official data shows that 60 people have been kidnapped in Venezuela so far this year.
Follow us on twitter.com/foxnewslatino
Like us at facebook.com/foxnewslatino