Venezuela: Two Of Opposition Leader Leopoldo Lopez's Closest Friends Found Dead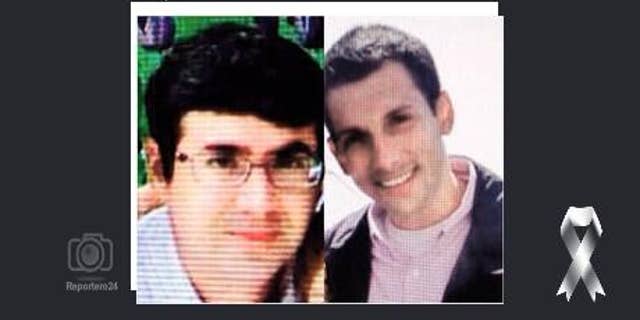 Two close friends of Venezuelan opposition leader Leopoldo López were found dead Sunday in a Caracas park, where they had gone cycling the day before. One of them, Luis Daniel Gómez, had actually grown up with Lopez in the same house and they were considered brothers.
Gómez, 36, and Gustavo Giménez, 40, were shot in the head and had their cell phones stolen. Giménez was a wealthy contractor and cousin of Lorenzo Mendoza, leader of Empresas Polar, the largest private group in the country. According to the Venezuelan website reportero24, he was also a relative of Lopez, who has spent the last month and a half in a military jail and was charged last week with several crimes, including criminal incitement.
Despite the connections with the jailed leader, so far Giménez and Gómez's killings are being attributed to street crime. El País newspaper reports that they were attacked Saturday evening while exercising, and that when the robbers realized who they were, they contacted family members and demanded a ransom. Police have not commented on the matter and local coverage of the deaths has been scarce.
On Monday, just a day after the news of the killings became public, Globovisión news channel reported that one of its top journalists, Nairobi Pinto, had been taken hostage Sunday afternoon and her whereabouts remain unknown.
Venezuela is among the most violent countries in Latin America. During a month and a half of ongoing protests, demonstrators have complained about high crime rates, soaring inflation and the scarcity of basic goods.
Venezuela's homicide rate quadrupled over the past 15 years, according to a non-governmental group that tracks violent crime in the country.
The Venezuelan Violence Observatory estimates that 24,763 killings occurred in 2013, pushing up the homicide rate to 79 per 100,000 inhabitants. It was 73 per 100,000 people in 2012. In 1998, the rate was 19.
Venezuela's government has gradually blocked access to murder statistics as violent crime has worsened the past decade.
Follow us on twitter.com/foxnewslatino
Like us at facebook.com/foxnewslatino