Utah Soccer Referee In Coma After Player Punches Him In The Head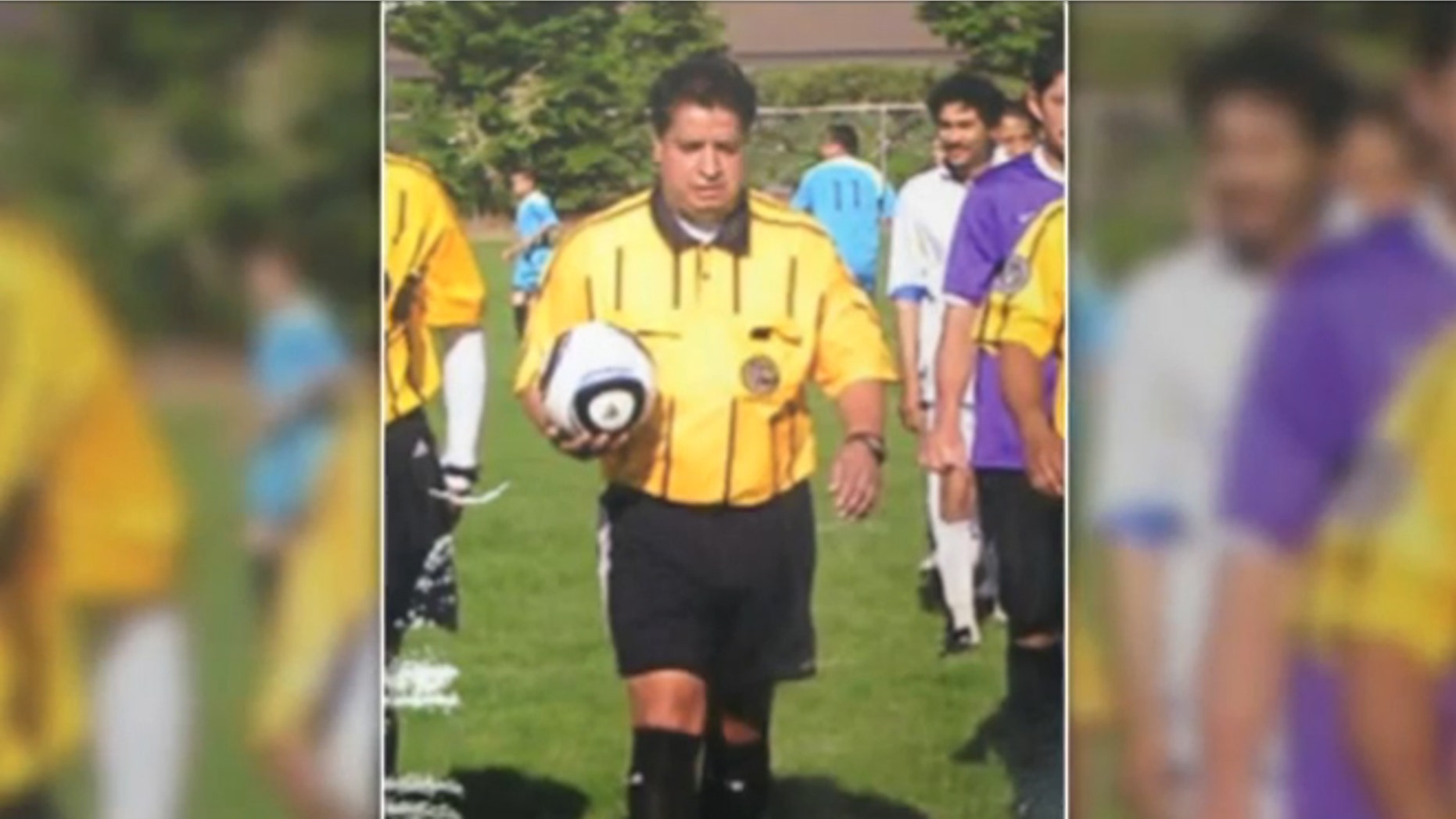 MURRAY, Utah – A longtime Utah soccer referee is fighting for his life in a coma after he was punched by a 17-year-old player unhappy with one his calls.
Ricardo Portillo, 46, has swelling in his brain and his recovery is uncertain as he remains in critical condition, Dr. Shawn Smith said Thursday at the Intermountain Medical Center in the Salt Lake City suburb of Murray.
His family says they're hoping for a miracle for Portillo's  recovery and want justice for him.
Police say the teen player in a recreational soccer league punched Portillo after the man called a foul on him and issued him a yellow card last weekend.
The teen has been booked into juvenile detention on suspicion of aggravated assault. Those charges could be amplified if Portillo dies.
Soccer is not usually a violent sport producing physical altercations or mass melees as seen in, for example, ice hockey, football or basketball. This unofficial league in Utah seems unusually violent.
Portillo's oldest daughter, 26-year-old Johana Portillo, said at a news conference Thursday that her father has been attacked by other players before — even having his ribs and leg broken.
"People don't know it's a game," she said. "We're all there to have fun, not to go and kill each other."
"Please," she said, holding back tears. "Pray for my father."
Smith declined to speak about what caused Ricardo Portillo's injuries or divulge his prognosis due to the ongoing police investigation. But Johana Portillo, 26, said her father might not survive.
"I know he doesn't want to leave us," she said, crying. "We hope for a miracle that he will be ok."
Johana Portillo wasn't at the Saturday afternoon game in the Salt Lake City suburb of Taylorsville, but she said she's been told by witnesses and detectives that the player hit her father in the side of the head after he issued the yellow card.
"When he was writing down his notes, he just came out of nowhere and punched him," she said.
His friends who were there told her Ricardo Portillo seemed fine at first, but then asked to be held because he felt dizzy. They sat him down and he started vomiting blood, triggering his friend to call an ambulance. The referee has been in a coma since Saturday.
Johana Portillo said her father's passion is soccer, and he's been a referee in the recreational league for eight years. Five years ago, a player upset with a call broke his ribs. A few years before that, a player broke his leg, she said. Other referees have been hurt, too.
Portillo's daughters begged him to stop refereeing — his second job — but he continued because he loved soccer.
"It was his passion," she said. "We could not tell him no."
The league is not affiliated with the Utah Youth Soccer Association or any city or town recreation department. It is called the Liga Continental, said the referee's brother-in-law Pedro Lopez, who also gets paid to referee in the league.
"It's just awful," said Andrew Hiatt, the CEO of the Utah Youth Soccer Association. "It's just everything that's wrong with youth sports and with being a poor sport."
Johana Portillo said the family doesn't know the teenager who threw the punch, and they haven't heard from him or anyone in his family.
Friday is Ricardo Portillo's youngest daughter's 16th birthday, and the family was planning to leave on vacation Thursday, Johana Portillo said. Instead, they have set up a bank fund in case their father dies.
"If my dad doesn't make it, we want to make his last wish come true," Johana Portillo said. "To see his family again."
She said his sisters are trying to come from Guadalajara, Mexico. The referee hadn't seen his sisters in the 16 years since he moved to Utah.
"It's just not fair," said Johana Portillo, holding back tears. "This person caused us a lot of pain. I want justice for my dad, and we're going to get it. ... If he spends time in jail forever, it's not enough. They are not going to bring my daddy back."
Based on reporting by The Associated Press and Fox 13 in Salt Lake City.
Follow us on twitter.com/foxnewslatino
Like us at facebook.com/foxnewslatino