US special forces captured ISIS chemical weapons chief in Iraq, official reveals
U.S. special forces captured the head of the Islamic State terror group's unit trying to develop chemical weapons in a raid last month in northern Iraq, a defense official tells Fox News.
"We are using information we have learned for operations," one official said. The captured operative was identified as Sleiman Daoud al-Afari.
He told U.S. interrogators ISIS had converted banned mustard gas into powdered form to launch in artillery shells, The New York Times adds.
Just yesterday, defense officials said U.S. warplanes in Syria targeted and likely killed an ISIS leader who served essentially as the terror group's secretary of defense.
The Iraq raid marks one of the first known major success of Washington's more aggressive policy of pursuing jihadis on the ground. The Obama administration launched the new strategy in December, deploying a commando force to Iraq that it said would be dedicated to capturing and killing ISIS leaders in clandestine operations, as well as generating intelligence leading to more raids.
U.S. officials said last week the Delta Force team had captured an Islamic State leader but had refused to identify him, saying only that he had been held for two or three weeks and was being questioned.
Iraqi officials said al-Afari worked for Saddam Hussein's now-dissolved Military Industrialization Authority where he specialized in chemical and biological weapons. They said al-Afari, who is about 50 years old, heads the Islamic State group's recently established branch for the research and development of chemical weapons.
He was captured in a raid near the northern Iraqi town of Tal Afar, the officials told The Associated Press. They would not give further details.
The weaponized mustard gas that ISIS has developed would not be concentrated enough to kill, but could badly wound its victims, a defense official told The Times.
An initial assessment of the U.S. airstrike conducted in Syria last week showed that it likely killed commander Omar al-Shishani, also known as Omar the Chechen, along with 12 additional ISIS fighters, officials added.
Beyond intelligence value, the capture in Iraq could strike a blow to what Iraqi and American officials have described as a determined effort by the Islamic State group to develop chemical weapons.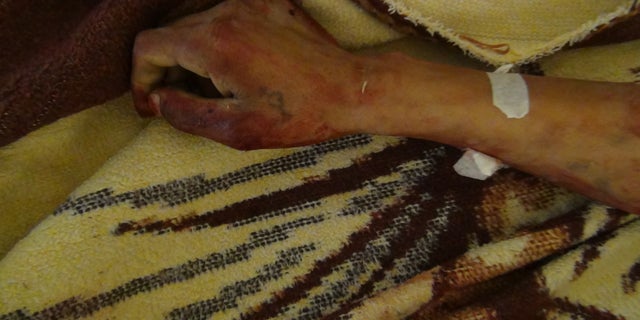 A Mideast watchdog released photos in 2014 suggesting the terror network seized chemical weapons from Saddam Hussein's old stockpiles and deployed them on ethnic Kurds in neighboring Syria. The Kurds apparently were killed by "mustard gas or some kind of blistering agent," the Middle East Review of International Affairs told Fox News at the time.
ISIS was believed to have set up a special unit dedicated to chemical weapons research, made up of Iraqi scientists from the Saddam-era weapons program as well as foreign experts who joined the group. Iraqi officials expressed particular worry over the campaign because ISIS gained so much room to operate and hide chemical laboratories after overrunning around a third of the country in the summer of 2014, joined with territory they controlled in Syria.
Iraqi officials say the group has ambitions to develop more dangerous agents like nerve gas, though the U.S. has said it appears still far from that goal. Tests confirmed mustard gas was used in a town in Syria when ISIS was launching attacks there in August 2015.
The United States has been leading a coalition waging airstrikes against ISIS in Iraq and Syria for more than a year. The campaign has been key to backing Iraqi and Kurdish forces that have slowly retaken significant parts of the territory the militants had seized.
But after coming under pressure at home for greater action against the militants, the Obama administration moved to the tactic of stepped up commando operations on the ground.
Last year, U.S. special forces killed a key ISIS leader and captured his wife in a raid in Syria, but the new force in Iraq was intended as a more dedicated deployment. American officials have been deeply secretive about the operation. Its size is unknown, thought it may be fewer than 100 troops.
"This is a no-kidding force that will be doing important things," was about all Defense Secretary Ash Carter would say about the force in testimony to the Senate Armed Services Committee in December.
Fox News' Lucas Tomlinson and The Associated Press contributed to this report.