US soldier killed by roadside bomb in northern Iraq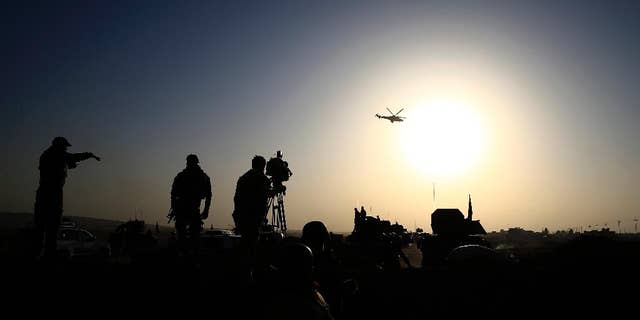 BAGHDAD – An American soldier died on Thursday from wounds sustained in a bombing in northern Iraq, the U.S. military said.
It was the first U.S. service member to die from fighting in Iraq since the launch of a massive operation to retake the Islamic State-held city of Mosul earlier this week. More than 100 U.S. special operations forces are embedded with Iraqi units, and hundreds more are playing a support role in staging bases.
The statement did not say whether the service member was involved in the offensive. It said the soldier was wounded by an "improvised explosive device," or roadside bomb.
The assault on Mosul, Iraq's second largest city, is bringing American forces into their most significant role in Iraq in years. There are more U.S. forces in Iraq now than any time since the 2011 U.S. withdrawal, and American forces have been increasingly active on and beyond front-line positions.
As of early this month, there were 4,565 U.S. troops in Iraq, according to the Pentagon. That doesn't include another 1,500 troops considered there "on temporary duty," whose number changes daily, according to the U.S. officials.
Three other service members have died in Iraq since the U.S.-led coalition began launching airstrikes against IS in August 2014.
In October 2015, Master Sgt. Joshua Wheeler was killed when he and dozens of other U.S. special operations forces participated in a raid alongside Iraqi Kurdish forces to free IS-held prisoners.
Months later, Marine Staff Sgt. Louis Cardin was killed when IS fighters attacked a fire base in northern Iraq, and in May, Navy SEAL Charles Keating was killed in a firefight near Tel Askuf, also in the north.
Asked earlier this week about the degree of risk facing U.S. special operations forces who are advising Iraqi forces in the Mosul operation, Pentagon press secretary Peter Cook said Iraqis are in the lead but efforts are being made to limit the risk facing U.S. troops.
"There are Americans in harm's way as part of this fight," Cook said on Monday as the Mosul offensive was announced by the Iraqi government. "We're very aware of that and we're taking steps, as many steps as we can, to reduce the risk to American forces and we'll continue to do that."