US sanctions Pakistan school for allegedly training Al Qaeda fighters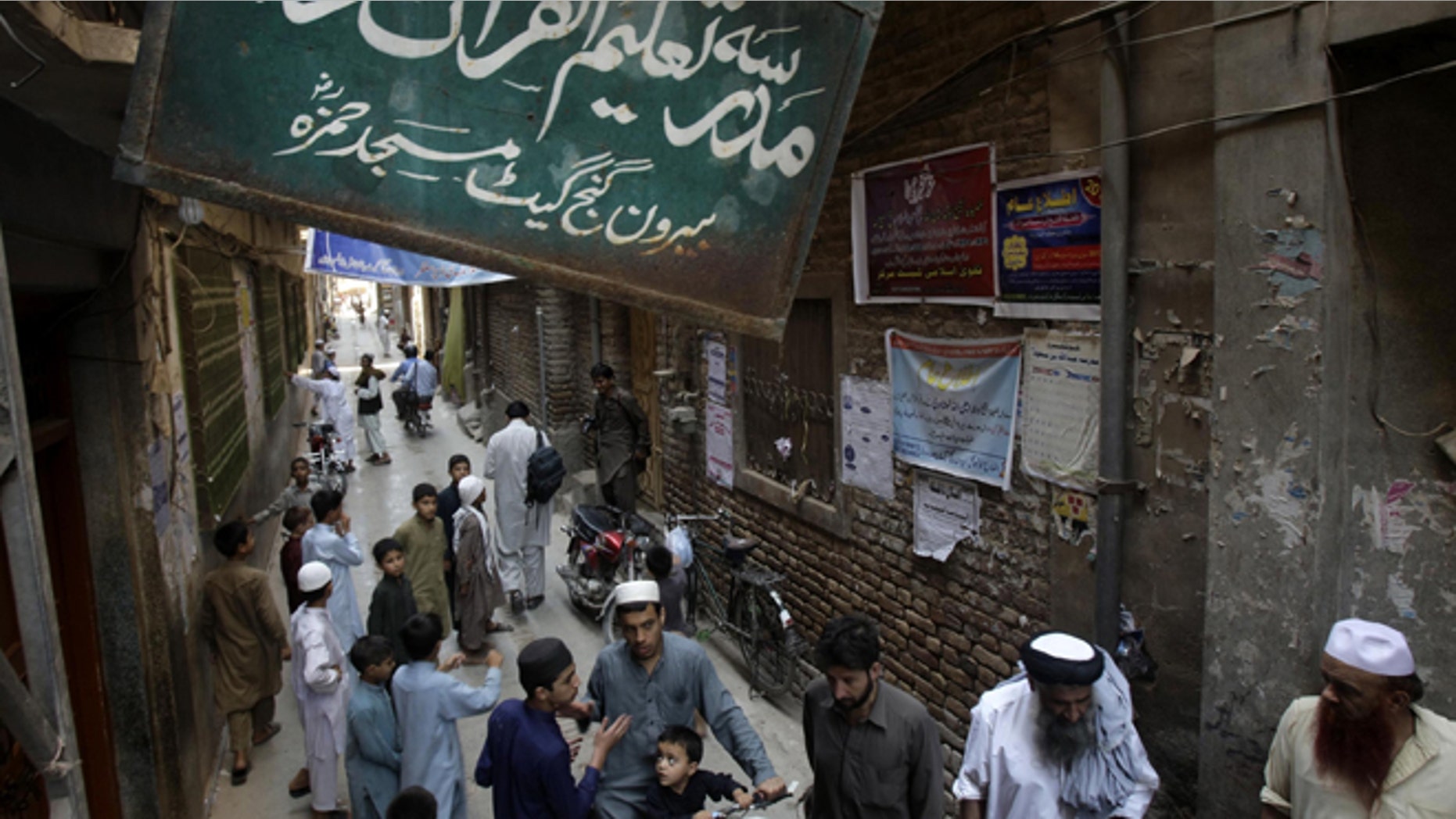 PESHAWAR, Pakistan – The United States has placed unprecedented sanctions on an Islamic school in northwest Pakistan for allegedly training and financing fighters from Al Qaeda and other militant groups.
The sanctions against Jamia Taleem-Ul-Quran-Wal-Hadith Madrassa, also known as the Ganj Madrassa, in the city of Peshawar were the first to target an Islamic school, the U.S. Department of the Treasury said in a statement Tuesday.
Critics long have accused radical Islamic schools in Pakistan of indoctrinating young boys and training them to become militants.
The U.S. also placed sanctions on a man accused of being Al Qaeda's leader in the Pakistani provinces of Sindh and Baluchistan. Umar Siddique Kathio Azmarai also has been a significant financial facilitator for the group, moving hundreds of thousands of dollars to support operations, and managed logistics for Osama bin Laden's family members, the U.S. said.
"Today's action strikes at the heart of the financial and logistical support network that abuses charitable donations and provides essential services for various terrorist groups" including Al Qaeda, the Taliban and Lashkar-e-Taiba, said David Cohen, undersecretary for terrorism and financial intelligence. "We will continue to work with our partners around the world to dismantle these terrorist networks, especially those that try to conceal their sinister activities behind critical community organizations like madrassas."
The sanctions mean that any assets they may have under U.S. jurisdiction are frozen, and people in the U.S. are generally prohibited from doing business with them.
The U.S. said the Ganj Madrassa is controlled by a man known as Sheik Aminullah who was sanctioned by Washington and the United Nations in 2009 for providing material support to Al Qaeda and the Taliban.
"The Ganj Madrassa serves as a terrorist training center where students, under the guise of religious studies, have been radicalized to conduct terrorist and insurgent activities," the U.S said in its statement. "In some cases, students were trained to become bomb manufacturers and suicide bombers."
In an interview with The Associated Press, one of the school's administrators denied it had any links with militant groups.
"The institution is purely a religious school, and is not connected with any organization or involved in any sort of illegality or promotion of extremism," said Alam Sher, who is in his 80s and helped found the school some 25 years ago.
Sher said Aminullah was a teacher at the school until he left nine months ago. School officials do not know where he is currently, he said.
The U.S. sanctions would not affect the school because it doesn't get any foreign aid and relies on public donations and income from Sher's soap factory, the administrator said.
The three-story school is located in a congested part of Peshawar and houses at least 150 students, mostly from poor families, Sher said. The school includes a mosque, classrooms and a hostel for the students.
Many people are concerned that the hundreds of madrassas across the country may become a training ground for extremists. Many parents, frustrated with a public school system widely viewed as dysfunctional, send their children to madrassas because they're free and in hopes that their children will get an education.
Ahmar Bilal Soofi, who served as the law minister in the interim government, said there has been little movement to reform madrassas which operate with little outside oversight.
"The concern was that they should be registered," he said. "Their financial management should have some oversight. There should be a uniformity of a syllabus that is taught to the madrassa students."
Peshawar has been plagued with militant attacks in recent years as the government has battled domestic Taliban militants and their allies. The government has also been fighting a low-level insurgency by separatists in southwest Baluchistan province for decades.
A blast at a train ticket counter in Chaman, a town in Baluchistan near the Afghan border, killed at least one passenger Wednesday and wounded 10 others, said a senior local government official, Ibrahim Ismail. The blast took place minutes before a train was to leave for Quetta, the capital of Baluchistan province.
No one has claimed responsibility for the attack.