US revokes visas held by Maduro allies
The United States will revoke visas held by government officials serving under Venezuela's disputed president Nicolas Maduro, officials said Thursday.
Elliott Abrams, the Trump administration's special envoy to Venezuela, declined to provide additional details or say how many officials would be affected by the decision, but did say the time for dialogue with the embattled leader "has long passed."
VENEZUELA MILITARY SETS UP BLOCKADE ON BRIDGE TO STOP AID FROM COLOMBIA
The announcement comes after the Trump administration along with most countries in the Western Hemisphere denounced Maduro's presidency and recognized Venezuela's opposition leader Juan Guaido as the legitimate head of the South American country.
The U.S. has begun applying diplomatic and economic pressure to force Maduro out of office.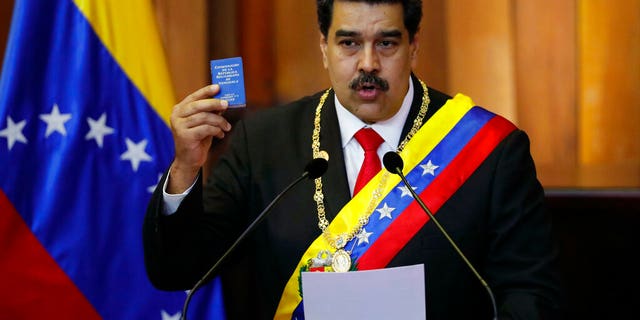 Maduro and his supporters have accused the U.S. of trying to carry out of a coup in Venezuela.
Russia and China are among the countries that continue to back Maduro's government and have warned the U.S. and other nations not to get involved.
CUBAN GUARDS SURROUNDING VENEZUELA'S MADURO, US MILITARY COMMANDER SAYS
On Wednesday, the Venezuelan military barricaded a bridge at a key border crossing in an attempt to block humanitarian aid from entering the country.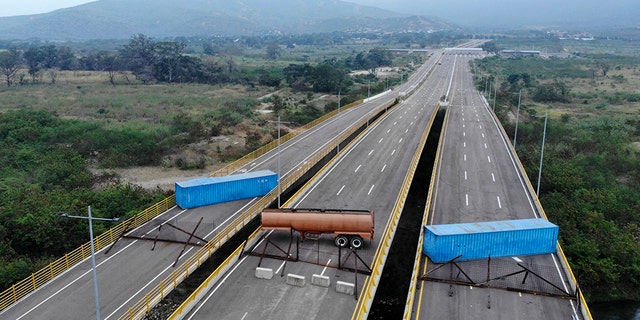 The Tienditas International Bridge was blocked a day prior by the Venezuelan National Guard with a giant orange tanker, two large blue containers and makeshift fencing near the border town of Cucuta in Colombia.
The bridge is at the same site where officials plan to store humanitarian aid that Guaido is vowing to deliver to Venezuela. The Trump administration has pledged $20 million in aid and Canada has promised another $53 million.
CLICK HERE FOR THE FOX NEWS APP
The aid squabble is now the latest front in the battle between Guaido and President Nicolas Maduro, who is vowing not to let the supplies enter the country. Maduro argues Venezuela isn't a nation of "beggars" and has long rejected receiving humanitarian assistance, equating it to a foreign intervention.
The Associated Press contributed to this report.