US missile defense site opens in Romania; Russia cries foul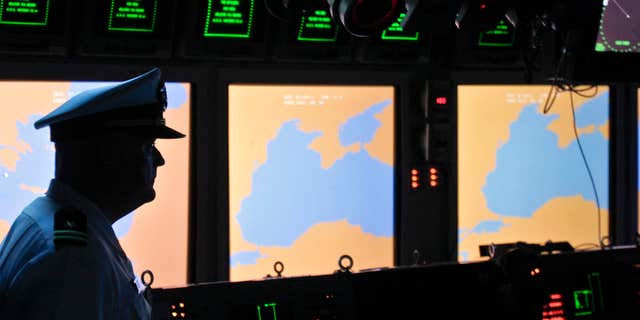 A U.S missile defense site in Romania aimed at protecting Europe from ballistic missile threats became operational Thursday, angering Russia, which opposes having the advanced military system in its former area of influence.
NATO Secretary General Jens Stoltenberg tried to reassure Russia as he spoke at a ceremony attended by U.S., NATO and Romanian officials at the Soviet-built base, located 180 kilometers (110 miles) southwest of Bucharest.
The NATO missile defense site "in no way undermines or weakens Russia's strategic nuclear deterrent. This site in Romania, as well as the one in Poland, are not directed against Russia," Stoltenberg said at the opening ceremony. "The interceptors are too few, and located too far south or too close to Russia, to be able to intercept Russian intercontinental ballistic missiles."
Stoltenberg said the interceptors were designed "instead to tackle the potential threat posed by short and medium- range attacks from outside the Euro-Atlantic area."
U.S. officials say the Romanian missile shield, which cost $800 million, is intended to fend off missile threats from Iran and is not aimed at Russia.
Stoltenberg noted that Moscow had unilaterally terminated cooperative dialogue about missile defense in 2013. He said, however, the alliance would continue to try and engage Russia in dialogue where possible.
"In times of tension, keeping channels of communication open is even more important," he said.
Russian President Vladimir Putin's spokesman, Dmitry Peskov, said Moscow was already taking measures for "securing the necessary level of security in Russia."
Admiral Vladimir Komoyedov, chairman of the State Duma's defense committee, called the missile defense site a threat to Russia.
"This is a direct threat to us," Komoyedov, the former commander of the Russian Black Sea Fleet, told the Interfax news agency. "They are moving to the firing line. This is not just 100; it's 200, 300, 1,000 percent aimed against us."
"This is not about Iran, but about Russia with its nuclear capabilities," he said.
President Klaus Iohannis said Romania wanted NATO to have a "permanent naval presence" in the Black Sea that respected international conventions, and called for increased security for NATO members in the south and east, which border Russia and the Middle East.
"It is important that a credible and predictable presence can be assured of the allied forces on the eastern flank, to balance the northern dimension with the southern and eastern flank," Iohannis said after meeting Stoltenberg on Thursday in the Romanian capital of Bucharest.
On Friday, Polish and U.S. officials will take shovels in hand to break ground at a planned missile defense site in the Polish village of Redzikowo, near the Baltic Sea.