US military official: 85-90 percent of eastern Mosul cleared of ISIS militants
NEWYou can now listen to Fox News articles!
Three months into its operation to recapture the Iraqi city of Mosul, US military officials say that upwards of 90 percent of the eastern part of the city has been cleared of ISIS militants.
U.S. Air Force Col. John Dorrian, a Baghdad-based US military spokesman, told Pentagon reporters on Tuesday that eastern Mosul is 85 to 90 percent clear of militants – exactly three months after the operation started on Oct. 17.
ISTANBUL NIGHTCLUB ATTACK SUSPECT REPORTEDLY NABBED AFTER TWO-WEEK MANHUNT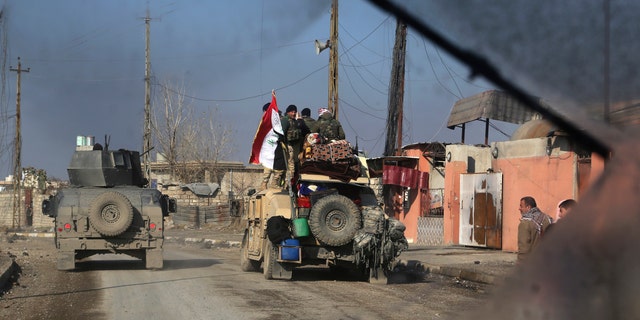 Dorrian said they are now concerned about ISIS "sleeper cells" that could be in areas that have been cleared.
Dorrian's announcement comes after it was revealed that Iraqi forces have also captured the Mosque of the Prophet Younis, or Jonah, after driving ISIS militants from a neighborhood in eastern Mosul.
UNITED NATIONS: IRAQ'S BATTLE FOR MOSUL HAS MADE OVER 148,000 HOMELESS
The mosque was among dozens of historical and heritage sites destroyed by ISIS militants after their June 2014 onslaught. The site is believed to be the burial place of the prophet Jonah, who was swallowed by a whale in stories from both the Bible and the Koran. It was built on an archaeological site dating back to the 8thcentury B.C. and attracted religious pilgrims from multiple faiths around the world.
More than a million people were estimated to still be living in Mosul in October, when Iraqi forces launched the operation to retake the country's second largest city from ISIS.
Dorrian said there are more than 750,000 Iraqi civilians still living in western Mosul, an area that ISIS militants still full hold.
He the area has "even more dense terrain" than the eastern part of the city. He added that he would not estimate when the operation to liberate western Mosul would begin.
However, earlier on Tuesday, Iraq's Prime Minister Haider al-Abadi said in a statement on state TV that Iraqi forces had begun "moving" against ISIS militants in western Mosul, Reuters reported.
He didn't give details of exactly what actions Iraqi forces were undertaking.
Since the operation started in mid-October, nearly 150,000 people have been displaced, the U.N. said in a statement issued late Monday. Nearly 12,500 people were forced to flee their homes just over the past week, the statement added.
It also said that the fighting over Iraq's second-largest city continues to inflict relatively high civilian casualties, with more than 1,500 wounded taken to hospitals in the nearby city of Irbil for trauma care. ISIS fighters have repeatedly targeted civilians trying to flee neighborhoods still under militant control.
Fox News' Lucas Tomlinson and The Associated Press contributed to this report.