US-led coalition ramps up airstrikes on ISIS-held Mosul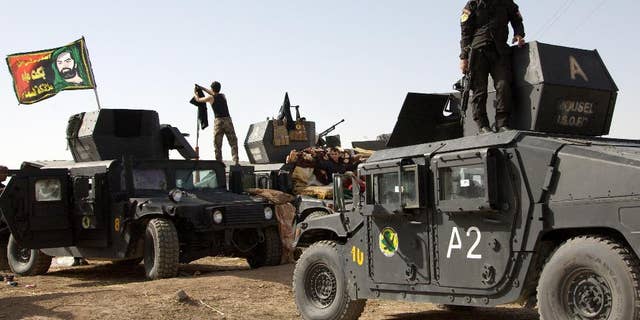 KHAZIR, Iraq – A few hundred Iraqi special forces arrived Friday at the front line near militant-held Mosul, one small part of a series of troop movements that have massed thousands of soldiers ahead of an operation seeking to retake the country's second-largest city from the Islamic State group.
"Yesterday, our commander told us: This is it, the liberation of Mosul is beginning," a special forces sergeant said, speaking on condition of anonymity because he was not authorized to brief the media.
Officials from Iraq and the U.S.-led coalition have said preparations and planning of the operation are ongoing, but there is widespread speculation it will be launched this month.
The Iraqi troops interviewed by The Associated Press were camped in a field across the Great Zab River separating Nineveh province from Iraq's Kurdistan region. Nearby, other members of their unit were moving into an abandoned village, converting homes into a barracks for temporary camp.
The large volume of forces needed for the Mosul fight — Iraqi and coalition officials say at least 30,000 will take part — has overcrowded the few bases that Iraq's military has along the Mosul front line.
The sergeant said his unit traveled in a convoy from Tikrit to the front near the district of Khazer, on the edges of the Nineveh plain about 18 miles from Mosul. Along the way, he saw thousands more Iraqi soldiers being deployed, he said.
"We are here for the Mosul battle, and we won't return home until we finish it," he added.
Qayara air base south of Mosul is expected to be the main hub of operations, but Iraqi army convoys, including a unit of the elite special forces, could also be seen moving to front-line positions east of the city.
The coalition said Friday it also is conducting a larger number of airstrikes in the area, launching more than 50 in and around Mosul over the past two weeks.
Mosul, once home to more than 2 million people, fell to ISIS fighters more than two years ago. The operation to retake it is expected to be the most complex yet for Iraq's military.
In addition to Iraq's conventional military, other participants expected to participate in the battle are Shiite militias, Kurdish forces known as the peshmerga, Sunni tribal fighters and federal police forces.
"We would like to tell (civilians in Mosul) we are coming very soon, god willing," said Ahmed Hussein, a special forces solider who was perched on the hood of a black armored Humvee.
"My advice to (the ISIS militants) is to run away. It's better for them to run," he said, predicting the fight will only last a few days.
Mosul is the last urban area in Iraq under militant control. Since ISIS overran large parts of northern and western Iraq in the summer of 2014 for the group's self-proclaimed caliphate, Iraqi ground forces, backed closely by the coalition, have retaken more than half of the territory.
The gains have been shaky at times. A group of soldiers now on the Mosul front line joked that they liberated the Beiji oil refinery in central Iraq at least five times before it held. In recent battles south of Mosul, the ISIS fighters largely fled and launched only limited, small-scale counterattacks.
Over the past week, coalition and Iraqi officials said they have seen small numbers of ISIS fighters fleeing Mosul into neighboring Syria. It's still unclear, however, if the militants will put up a strong fight for the city.
Inside Mosul, residents report that prices for food and fuel have spiked amid speculation that an offensive is imminent.
As Iraqi forces have moved to isolate Mosul, residents who spoke to the AP by phone say ISIS fighters have begun reinforcing trenches around the city and setting booby-trapped explosives along main thoroughfares.
From a Kurdish Peshmerga base atop a hill along the front line, Lt. Col. Mohhesin Hassan said he's watched the steady buildup of Iraqi ground forces over the past week.
"It's been more than two years since we've seen Iraqi forces in this area like this," he said. "But, whenever the battle begins, we hope it will be over quickly. We're tired of fighting."