US frustrated China not doing more on NKorea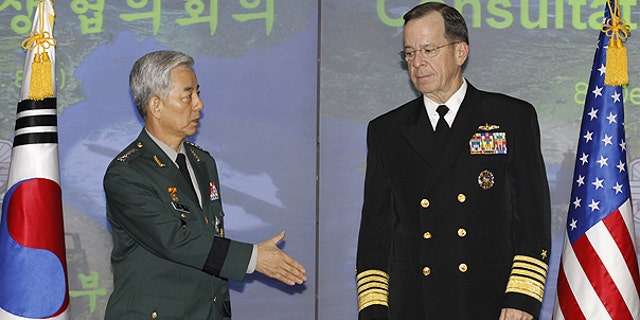 SEOUL, South Korea – The top U.S. military officer expressed frustration Wednesday with what he called China's unwillingness to rein in North Korea, calling again on Beijing to use its unique leverage to push the North to stop provocations.
Adm. Mike Mullen emphasized the U.S. commitment to South Korea's defense, saying their alliance remained unquestioned and denouncing North Korea's aggression, including an artillery attack last month that killed four South Koreans, as "belligerent, reckless behavior."
Mullen's remarks reflect a two-pronged approach by South Korea, the U.S. and Japan: On the one hand, they are threatening the North with quick and merciless retaliation if it attacks again; on the other, they are seeking a diplomatic way out, and mostly seem to be hoping China will provide it.
Beijing is the North's only major ally and an important source of aid. While China has repeatedly called for calm and negotiations in the wake of the shelling, its leaders have long been unwilling to push the North too far for fear the government could buckle, sending a stream of refugees across their shared border.
"China has unique influence. Therefore, they bear unique responsibility," Mullen, the chairman of the U.S. Joint Chiefs of Staff, said at a joint news conference with his South Korean counterpart, Gen. Han Min-koo.
But the Chinese "appear unwilling to use it," he said. "Now is the time for Beijing to step up to that responsibility and help guide the North, and the entire region, toward a better future."
Mullen warned that North Korea should not mistake South Korean restraint as a lack of resolve or "as willingness to accept continued attacks."
"Your readiness to defend your territory and your citizens is unmistakable, and my country's commitment to helping you do that is unquestioned," Mullen said.
Asked about the South Korean defense minister's vow to bomb North Korea should there be more attacks, Mullen said Seoul has "every right to protect its people and to respond as it sees fit." He said he didn't ask South Korea to "take air options off the table."
"The goal clearly is to have a deterrent effect so that all-out war never occurs," Mullen said.
Mullen noted that with 46 sailors killed in the sinking of a South Korean warship in March, there have been "50 deaths by DPRK hands," referring to North Korea by its formal name, the Democratic People's Republic of Korea. North Korea has denied involvement in the sinking.
South Korea and the United States staged drills last week off the west coast of the peninsula in a show of force after North Korea's Nov. 23 artillery barrage on South Korea's Yeonpyeong island near the Koreas' disputed sea border.
While the officers met earlier Wednesday, North Korea staged apparent firing exercises.
North Korean shells landed in the country's own waters north of South Korea's Baengnyeong island, a South Korean military official said. He spoke on condition of anonymity, citing military rules.
North Korea also carried out an apparent military exercise within sight of Yeonpyeong island last month following the artillery assault on the island. Artillery shots were heard three days later as Gen. Walter Sharp, the top U.S. commander in South Korea, toured the island in a show of solidarity with Seoul and to survey damage.
The Nov. 23 attack — the first since the 1950-53 Korean War to target a civilian area — killed two South Korean marines and two construction workers, and reduced many homes and shops to charred rubble.
Han called the attack a violation of the U.N. charter and the armistice signed at the close of the war.
He said South Korea and the United States will quickly complete a plan to deal with North Korean provocations, which he said have become bolder.
"If North Korea were to additionally provoke us, we will respond in a very firm manner out of self defense, and North Korea will have to pay a very deep price for the additional provocation," Han said.
In Washington, the Obama administration announced it will send its No. 2 diplomat and three other top officials to China next week for talks on North Korea.
On Tuesday, Deputy Secretary of State James Steinberg, who will lead the delegation to Beijing, urged China to press North Korea harder on halting provocative acts.
Steinberg's trip follows a meeting Monday between U.S. Secretary of State Hillary Rodham Clinton and the foreign ministers of Japan and South Korea in which they called on North Korea to stop what they described as belligerent behavior.
They also rejected China's call for immediate talks with North Korea, saying the North first needed to prove its commitment to peace and follow through on commitments it made in past six-nation nuclear disarmament talks.
North Korea recently revealed a uranium enrichment facility which could give it a second way to make atomic bombs. Despite that defiance, North Korea has indicated its readiness to resume the negotiations, which would provide it with much-needed aid and other concessions in exchange for disarmament.
The two Koreas remain in a technical state of war because their three-year conflict ended in a truce, not a peace treaty. North Korea disputes the maritime border drawn by U.N. forces in 1953, and considers the waters around the front-line islands its territory.
___
Associated Press writers Kelly Olsen and Jean H. Lee in Seoul and Matthew Lee in Washington contributed to this report.