Unity among North Waziristan groups crumbles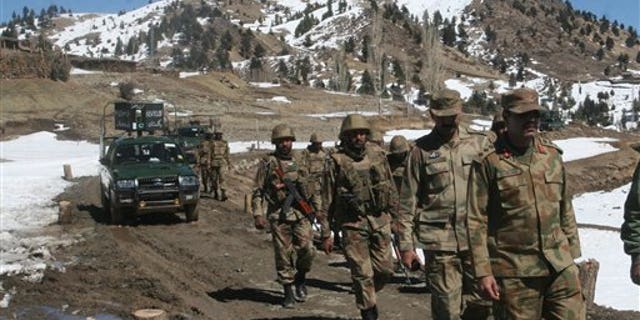 NEWYou can now listen to Fox News articles!
PESHAWAR, Pakistan – Crumbling unity among militants could provide the Pakistan army an opening to conduct a limited offensive against a particularly vicious Taliban group in a strategic tribal region, according to analysts and a senior military official.
The target of such an operation in North Waziristan would be the most violent factions within the so-called Pakistani Taliban. Their leader, Hakimullah Mehsud, is believed to be increasingly isolated after executing a prominent former Pakistani official over the objections of senior militant leaders.
Although Mehsud has been linked to attacks in neighboring Afghanistan, his main focus appears to be in plotting carnage elsewhere in Pakistan. And that makes him a prime target for the army.
Washington has long urged the Pakistanis to launch an operation in North Waziristan, a region overrun by an assortment of militant groups including al-Qaida. Most U.S. drone strikes in Pakistan take place in North Waziristan.
Already there are more than 30,000 soldiers in North Waziristan, and some analysts say the Pakistani army could quickly redeploy to the area. The army has 140,000 soldiers in the tribal regions that border Afghanistan
The Pakistanis, however, are unlikely to target the Haqqani group, which the U.S. considers its greatest enemy in Afghanistan. U.S. Adm. Mike Mullen, chairman of the Joint Chiefs of Staff, complained last week that Pakistan's secret service maintains links to the Haqqani network. The Haqqanis are Afghan Taliban who control parts of eastern Afghanistan and have bases in North Waziristan.
If the Haqqanis and other militant groups in North Waziristan cooperate with a military assault against the Pakistani Taliban, that would give the army more options.
The fissures among the militants were laid bare in February, when Mehsud released a gruesome video that confirmed the shooting death of former Pakistani spy Sultan Amir Tarar, better known as Col. Imam, according to a senior Pakistan army officer who spoke on condition of anonymity because of the sensitivity of the subject.
As Pakistan's consul general in Afghanistan's Kandahar province during the Taliban's rule, Imam was the conduit for money and weapons to the religious movement. A former Pakistani intelligence officer, Imam met regularly with Afghan Taliban's reclusive leader, Mullah Mohammed Omar. Imam was known to have kept contact with leading Taliban in hiding in Pakistan since the U.S.-led coalition ousted them from power in Afghanistan in 2001.
Mehsud's group had held Imam for 10 months. The killing confounded Pakistani military officials. They had long believed the Haqqanis held sway over the myriad of groups — including militants from Uzbekistan, Chechnya and the Middle East — operating in North Waziristan.
"We always thought that the Afghan Taliban had a sway over these groups, but Col. Imam's killing shows that no one is in control of anyone there," he said. "His death was a shock for us."
Taliban members who spoke to The Associated Press on condition of anonymity because they feared being arrested said Mullah Omar made a personal plea for Imam's life. Also requesting that Imam's life be spared was Sirajuddin Haqqani, a key leader of the Haqqani group.
The senior military official said Mehsud defied Mullah Omar and Sirajuddin Haqqani and went ahead with the execution after the government and army refused his demands to free several of his imprisoned men.
Not only that, Mehsud boasted on a jihadi website about the killing, according to the SITE Intelligence Group. The same website carried an Urdu language condemnation of Mehsud's organization, calling those behind the execution "beasts" and "ignoble killers," SITE said.
The divisions that Imam's death revealed among the militant groups could provide an opportunity for the army to hit hard at insurgents in the North Waziristan town of Mir Ali, where Mehsud set up bases after fleeing last year's military assault on his headquarters in neighboring South Waziristan, according to Mahmood Shah, a retired army brigadier and former security point-man for the government in the tribal regions.
Mir Ali is about 20 miles (32 kilometers) from the town of Miram Shah, where the Haqqanis are based.
Tribal elders from North Waziristan, all of whom were too afraid to talk on the record, fearing retribution from militants, said the landscape in their home region has undergone massive upheavals since the army operation in South Waziristan.
They said Mehsud and his men were among the most troublesome of the militants, largely because of their affiliation with criminal gangs.
Mehsud and his followers are also among the richest, having accumulated wealth through kidnappings for ransom, thefts and extortion, said a tribal elder from Shawal district of North Waziristan.
Mehsud's close affiliation with Lashkar-e-Janghvi, a Punjabi-based Sunni Muslim militant group blamed for dozens of attacks against minority Shiite Muslims, has also provided him with a reservoir of suicide bombers. They have carried out dozens of attacks throughout Pakistan and in Afghanistan.
U.S. officials who did not want to be identified because of the sensitivity of the subject said the Jordanian suicide bomber who killed six CIA operatives in Afghanistan's Khost province in December 2009 was trained by Lashkar-e-Janghvi's Qari Hussain, who was also a member of Mehsud's group. Hussain was killed in a drone attack but was quickly replaced by a cousin and fellow tribesman of Mehsud's.
Mehsud has overseen the Pakistani Taliban ever since his predecessor, Baitullah Mehsud, was killed in a CIA missile strike on Aug. 5, 2009. Hakimullah Mehsud is affiliated with the Taliban's most violent factions and has survived U.S. and Pakistani attempts on his life.
In recent years the United States has identified Mir Ali as the site of a reconstituted al-Qaida. Also on the run in Mir Ali is Ilyas Kashmiri, a confidante of Mehsud's. The United States this month put a $5 million bounty on Kashmiri's head.
___
Gannon is The Associated Press special regional correspondent for Pakistan and Afghanistan.