United Nations Lifts Iraq Nuclear Weapons Sanctions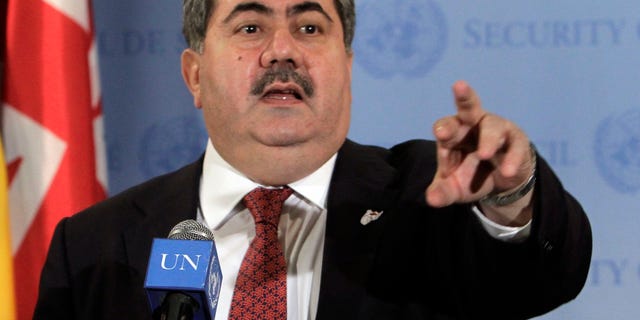 The U.N. Security Council on Wednesday lifted sanctions that prohibited Iraq from pursuing a civilian nuclear program, in a symbolic step to restore the country to the international standing it held before Saddam Hussein's 1990 invasion of Kuwait.
"This is a big announcement. A new day for Iraq," a State Department official told FoxNews.com.
Iraq's constitution bars the country from acquiring weapons of mass destruction and the country is a party to the main nuclear, chemical, biological and missile treaties. The resolution, adopted unanimously, also lifted sanctions that barred Iraq from acquiring nuclear, chemical or biological weapons and long-range missiles.
"What this basically is a recognition by the international community of the efforts and progress that has been made in Iraq up to this point to rejoin the international community and their commitment to living within the guidelines of the international community," the official said.
The official noted that sanctions have been in place since Saddam Hussein's invasion of Kuwait in 1990.
"The Iraq of today is a very different place of the Iraq of that time," the official said. "This is acknowledgement of that fact."
The council also voted to return control of Iraq's oil and natural gas revenue to the government on June 30, 2011, and to terminate all remaining activities of the oil-for-food program which ran from 1996-2003 and helped ordinary Iraqis cope with sanctions.
The U.N.'s most powerful body voted a day after a deadlock on forming a new Iraqi government ended and a year before the United States is scheduled to pull its last troops out of the country.
The council said it recognized "the positive developments in Iraq and that the situation now ... is significantly different from that which existed" after Saddam's 1990 invasion of Kuwait. It also recognized "the importance of Iraq achieving international standing equal to that which it held" prior to the invasion.
Iraq's Foreign Minister Hoshyar Zebari said Wednesday's meeting of the Security Council was "a historic session" since it ends an international embargo imposed on Iraq because of the wars started by Saddam's regime.
Before the vote, Zebari called the lifting of the sanctions "the biggest political accomplishment for Iraq."
"I can say that the session today is the beginning of the end," Zebari told the AP in a phone interview ahead of Wednesday's meeting. "Today Iraq will be liberated from all sanctions caused by wars and misdeeds of the former regime."
The Associated Press contributed to this report.