UN chief: Syria talks must focus on transition for success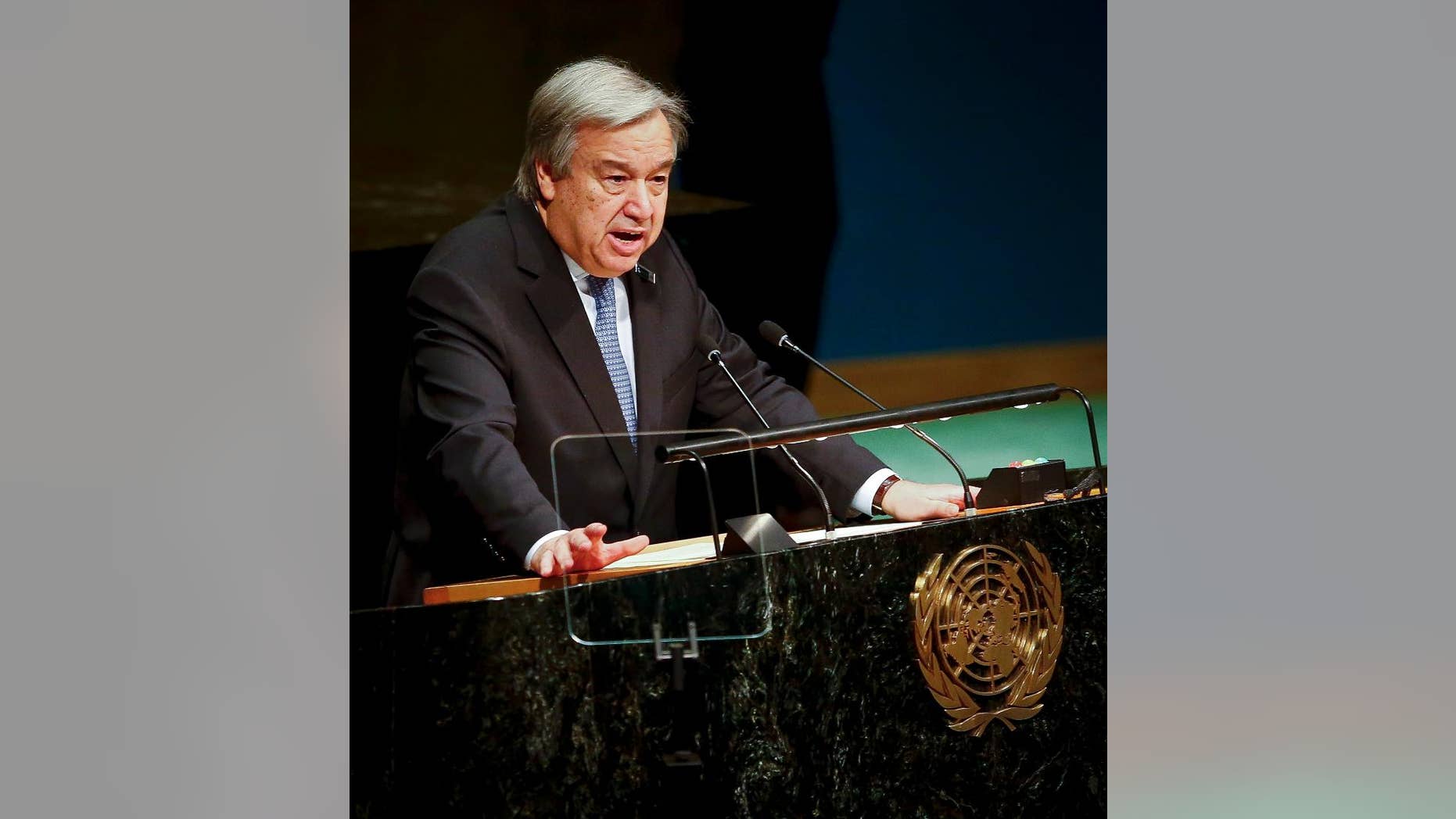 UNITED NATIONS – The United Nations wants upcoming talks in Geneva between the Syrian government and rebel groups to be a success and this means focusing on core issues including a transitional government, Secretary-General Antonio Guterres said Wednesday.
The U.N. chief told reporters that countries should concentrate all their efforts on the June 2012 communique approved by key nations in Geneva and a Security Council resolution adopted on Dec. 31 that again endorsed its roadmap to peace in the war-ravaged country.
The Geneva communique calls for a transitional government in Syria with full executive powers "on the basis of mutual consent" and outlines steps leading to the drafting of a new constitution and elections.
The future of Syria's President Bashar Assad has been a stumbling block in previous talks, with opposition groups insisting he must go. Guterres was responding to a question on whether the United Nations supports a transitional government or a government of national unity, which would leave Assad in power.
The secretary-general said "this is a long process of negotiation that is starting now and I hope will be concluded positively for the Syrian people."
"What we need is to concentrate all our efforts in line with (the) Security Council resolution and Geneva communique to make Geneva a success," he said.
U.N. special envoy Staffan de Mistura, who will oversee the U.N.-sponsored talks, announced Tuesday they have been postponed from Feb. 8 to Feb. 20 to try to solidify the Dec. 30 cease-fire agreement that is broadly working "quite effectively."
The delay will also give the government a chance "to become seriously engaged in concessions" and the opposition time to unify its delegation, he said.
De Mistura said invitations will be issued around Feb. 8 and if the opposition isn't united by that date he will select the delegation and ensure that it is as inclusive as possible, including women which has not previously been the case.
Guterres said this possibility was given to de Mistura by the Security Council when asked about strong criticism from the main opposition High Negotiations Committee to a possible U.N.-appointed delegation.
"What we want is the success of the Geneva conference, and the success of the Geneva conference implies that there is a meaningful representation of the Syrian opposition in Geneva, and we will do everything to make sure that that happens," he said.
The Syrian war has by most estimates killed more than 400,000 people since March 2011 and displaced more than half the country's population.
Guterres expressed hope that President Donald Trump's ban on refugees entering the United States will be short and that Syrians won't be excluded when it's lifted because they currently "have the most dramatic needs in the world."
He said the U.S. bans on travel and refugee resettlement violate "our basic principles" and are not an effective way to stop would-be terrorists.