UN-Arab League special envoy Annan meets Syria's Assad after massacre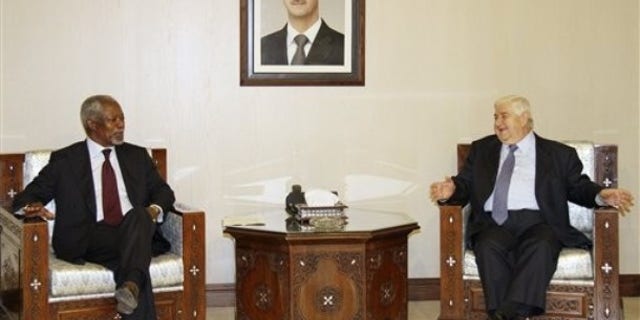 DAMASCUS – Special envoy Kofi Annan met Syrian President Bashar al Assad in Damascus on Tuesday, amid intensifying international pressure after a massacre that killed more than 100 civilians.
The start of the meeting between the UN-Arab League envoy and Assad was reported by Syria's official SANA news agency, which provided no further details.
After his arrival in the Syrian capital Monday, Annan called on "every individual with a gun" to lay down arms and to stop the killing.
The deaths of 108 people, mostly women and children, in Houla on Friday shattered a monthlong cease-fire that had barely held.
The incident drew a sweeping condemnation of the Syrian government, including from its ally Russia, for violating the peace plan.
Diplomacy, while still the focus of efforts to stop the violence, increasingly appears a sideshow to Syria's renewed civil conflict.
Activists Monday reported fresh government shelling, killing at least 40 in Hama and two dozen more across the country.