UN accuses Sudan's president of genocide; then mulls naming him to Human Rights Council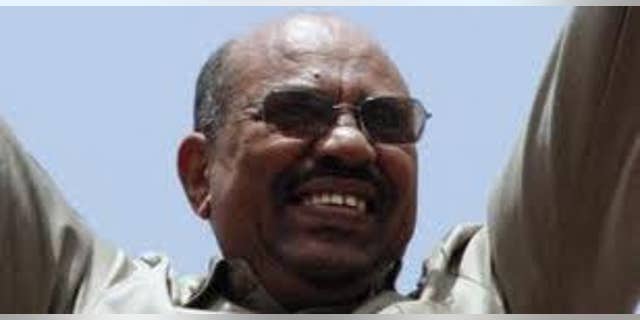 NEWYou can now listen to Fox News articles!
UNITED NATIONS – The UN's newest candidate to sit on the Human Rights Council is led by an African strongman accused of genocide by the world body's top war crimes court.
Sudan, led by President Omar al-Bashir, is set to join what the UN bills as its foremost arbiter of human rights abuses, in just the latest absurd example of the a UN selection process that repeatedly places rogue states in global leadership positions.
"Electing Sudan to the UN body mandated to promote and protect human rights worldwide is like putting Jack the Ripper in charge of a women's shelter," fumed Hillel Neuer, executive director of UN Watch, which monitors the Council in Geneva. "But it's the way the UN works."
Sudan is among five countries the African Union (AU) is moving to present to fill the five upcoming seats on the 47-member Council that are reserved for the region.
[pullquote]
Because that many nominations represent a "clean slate," UN tradition dictates that a majority of the rest of the world endorse the choice. This, even though the UN's International Criminal Court (ICC) issued a global arrest warrant for al-Bashir in 2009 for his part in his Arab-led government's alleged involvement in genocide, war crimes and crimes against humanity targeting blacks in western Sudan's Darfur region.
"We are obviously very much opposed, but this is not a done deal, and we urge members of the AU to do the right thing and stop an ICC-indicted war criminal from taking a seat on the Human Rights Council," said a senior official with the U.S. mission to the UN, who asked not to be named because a more formal response had yet to be formulated.
But the election process favoring rogue states is pervasive at the UN. Recent examples include:
– Iran's election as a deputy-president of the 15-member board helping to thrash out a UN arms trade treaty this month. This is despite multiple UN sanctions against the Islamic republic over its nuclear defiance, and despite a long and bloody record of human rights abuses.
– Zimbabwe President Robert Mugabe's appointment in May as a UN tourism envoy for a major UN conference, despite his decades-old record of serious human rights abuses.
– Syria's election to a UNESCO human rights committee last fall, despite the ongoing slaughter in the Mideast country that has claimed 17,000 lives since Damascus began its crackdown on dissent last year.
– UN elections for the current Human Rights Council that gave seats to China, Cuba, Russia and Saudi Arabia – all of which have poor human rights records.
Mark Kornblau, chief spokesman for the U.S. mission to the UN, says in a statement that the U.S. believes the UN "must reform the outdated procedures and elections practices that allow pariah states to participate in completely inappropriate ways in parts of the UN system. He adds that the U.S. is working "towards that end."
But even as one U.S. official said the United States had helped thwart an Iranian bid to become a Human Rights Council member in 2009, and a Syrian bid last year, he admitted that such success was always a "heavy lift."
Indeed, regions beyond Africa have presented clean slates for this year's elections – allowing a new round of states with poor or appalling human rights records to serve on the Council.
Venezuela – where a former chief justice recently admitted that the Chavez government routinely dictates verdicts in politically-sensitive cases – is one of the three countries set to fill an equal number of upcoming seats going to the Latin American and Caribbean States region.
Five Asian countries publicly declared for Asia's five spots include Pakistan, where Human Rights Watch says religious minorities faced "unprecedented insecurity and persecution" as the "human rights situation deteriorated significantly in 2011."
Syria, meanwhile, has announced it will run in next year's elections, and the U.S. last week failed to persuade the Council to condemn the candidacy.
"Think for a moment about just how outrageous this is: the genocidal Sudanese regime, and the dictatorship in Venezuela which models itself after Fidel Castro, are both poised to join a UN organization responsible for preventing human rights abuse and punishing the abusers," U.S. Rep. Ileana Ros-Lehtinen (R-FL), Chairman of the House Foreign Affairs Committee, said in a statement.
The Council evolution is all the more bizarre, critics say, because the UN General Assembly launched the body in 2006 to replace the UN Human Rights Commission, with Kofi Annan – then the UN Secretary General – admitting that the former chamber had become hopelessly riddled with human rights-abuser states.
The Bush administration steered clear of the new chamber, while the Obama administration joined in 2009 to "help shape global rules," U.S. Secretary of State Hillary Clinton said when the U.S. presented itself for election.
"The Obama administration should stop making excuses for the UN Human Rights Council, which remains as dictator-friendly as ever, despite three years of U.S. membership and funding," Ros-Lehtinen's statement charged.
Once on the Human Rights Council, rogue states typically maneuver to deflect criticism of themselves. They have also traditionally been at the center of the Council's wildly disproportionate focus on Israel, which faced more than twice as many Council condemnations last year than its nearest competitor.
Steven Edwards is a UN-based freelance journalist