Ukrainian forces capture 10 Russian soldiers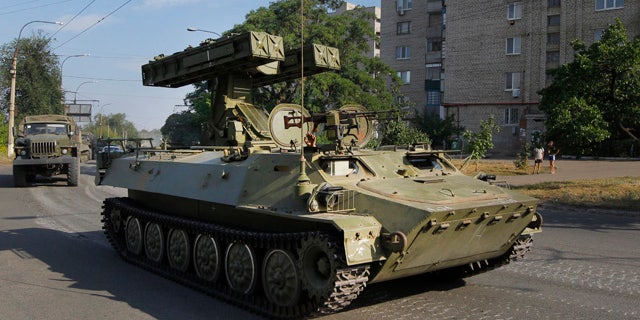 Ukraine announced Tuesday that it had captured ten Russian soldiers in the eastern Donetsk region, while Russia reportedly claims that they crossed the border by accident.
Ukraine said it captured the soldiers in the area of Amvrosiivka, near the Russian border. The region has been torn apart by fighting between government troops and pro-Russian separatists who declared independence in the region in April.
The announcement came as the presidents of Russia and Ukraine sat down for talks Tuesday, meeting face-to-face for the first time since June.
Russia's Vladimir Putin and Ukraine's Petro Poroshenko were joined by the presidents of Belarus and Kazakhstan and three senior officials from the European Union in the Belarusian capital of Minsk.
The Facebook page for the anti-rebel operation -- which includes the military, the national guard and Interior Ministry forces -- said the soldiers are from a Russian paratrooper division. The posting did not give details of how the capture took place.
Footage of five of the captives was also posted on the page and showed men dressed in camouflage fatigues.
One of the soldiers said they had been told they were being mobilized to take part in military exercises, The Associated Press reports.
Another soldier, who identified himself as Ivan Melchyakov, listed his personal details, including the name of the paratroop regiment he said is based in the Russian town of Kostroma, located on the Volga River northeast of Moscow.
"I did not see where we crossed the border," he said, according to Sky News. "They just told us we were going on a 70-kilometer (43-mile) march over three days.
"Everything is different here, not like they show it on television," Melchyakov continues. "We've come as cannon fodder."
The BBC reported that another captive, who gives his name as Sgt. Andrei Generalov, said "Stop sending in our boys. Why? This is not our war. And if we weren't here, none of this would have happened."
Ukraine's Defense Minister seized on the capture, the first such event claimed by authorities, as proof that Russian soldiers are fighting in Ukraine alongside the separatists.
"Officially they are at exercises in various corners of Russia," Valeriy Geletey said, according to Sky News. "In reality, they are participating in military aggression against Ukraine and their families know nothing about their true fate... I am addressing the relatives of Russian servicemen. Find out immediately where your loved ones are. Take them out of Ukraine, where they are being forced to die."
The Russian news agency RIA Novosti quoted an unnamed source in the Russian Defense Ministry as saying the soldiers were patrolling the border area and probably crossed the border inadvertently.
The United Nations has estimated that more than 2,000 people have died since the conflict began, while 330,000 are believed to have fled the area.
NATO has claimed that Russia has tens of thousands of troops positioned in areas near the Ukrainian border, leading to persistent concerns that Russia could be preparing an invasion. Russia has denied that it has any intention of invading eastern Ukraine, and has also pushed back against accusations from Ukraine and Western nations that it has provided military support and training to the separatists or fired artillery into Ukraine itself.
Meanwhile, towering columns of smoke rose Tuesday from outside a city in Ukraine's far southeast after what residents said was a heavy artillery barrage.
It was the second straight day that attacks were reported in the vicinity of Novoazovsk, which is in eastern Ukraine's separatist Donetsk region but previously had seen little fighting between Ukrainian forces and pro-Russian rebels.
Local residents, some hastily packing up in order to flee, told The Associated Press it was not clear what direction the firing had come from.
Ukrainian officials on Monday said artillery was fired from the Russian side of the border. A Ukrainian soldier who declined to give his name suggested that Tuesday's shelling could have come from rebels aiming to take out a Ukrainian rocket launcher.
The Associated Press contributed to this report.