Ukraine says pro-Russian rebels killed 'dozens' of civilian refugees near Russian border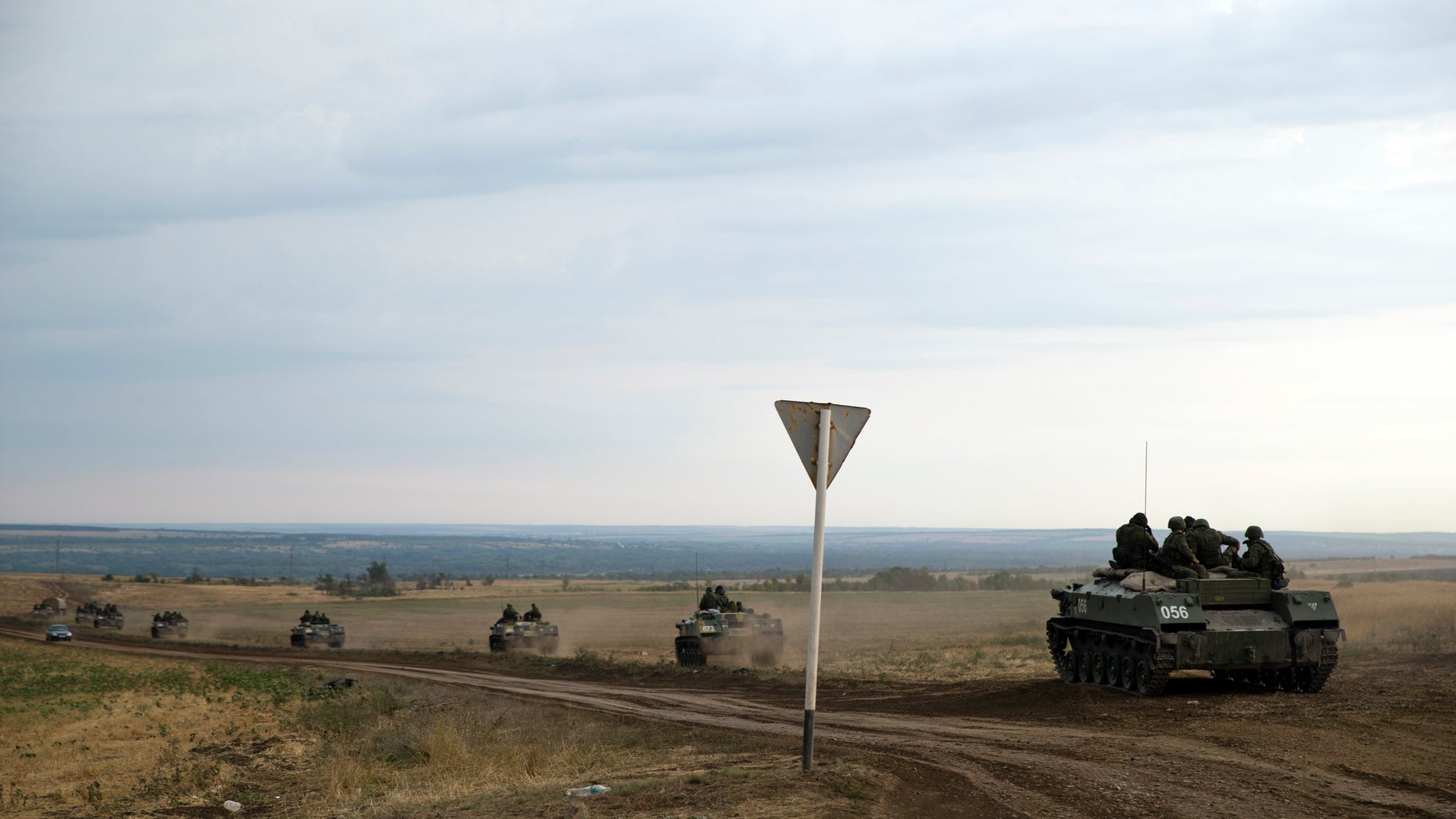 Ukraine says dozens of refugees trying to flee its war-torn eastern region were killed in a rebel shelling attack Monday, as negotiations in Germany on the situation yielded an agreement on humanitarian aid, but no cease-fire.
Col. Andriy Lysenko, a spokesman for Ukraine's National Security Council, told reporters Monday he did not have an exact figure, but said dozens of people died in the assault, including children.
The incident happened Monday morning between the towns of Khryashchuvate and Novosvitlivka, located on the main road leading to Russia from the besieged rebel-held city of Luhansk, Lysenko said. That road is likely the one that a disputed Russian aid convoy would take if Ukraine allows it into the country, heading for the hard-hit city of Luhansk.
"Many people were killed, among them women and children," Lysenko said. "We are not able to count the death toll at this point." When asked about a rough estimate of deaths, he said: "Dozens."
But Donetsk rebel chief Alexander Zakharchenko later told reporters that no such attack had taken place. His deputy, Andrei Purgin, said he had no information about any attack but insisted it was not by his forces.
"If someone was killed, it wasn't us but the Ukrainian military," Purgin told The Associated Press.
Purgin said the road cited by the Ukrainian government for Monday's alleged attack had been targeted previously by government forces.
Diplomats from Ukraine, France, Germany and Russia met in Germany Sunday to try to broker peace between Ukraine and pro-Russian rebels. Speaking Monday at a news conference in Berlin, Russian Foreign Minister Sergey Lavrov said while there was still no cease-fire agreement, all questions regarding a humanitarian aid mission had been answered and Ukraine and the International Red Cross had settled on a solution.
Lavrov described the situation in east Ukraine as a "humanitarian catastrophe," Reuters reported, and said a cease-fire was needed to protect civilians from Ukrainian attacks.
German Foreign Minister Frank-Walter-Steinmeier said after the five-hour meeting that "frank words" had been exchanged and he believed there had been progress "on some issues," without elaborating.
"We are not able to report on positive results on reaching a cease-fire and on [a start to] the political process [to resolve the conflict]," Lavrov told reporters Monday.
Ukraine officials were concerned that a convoy of 280 Russian trucks carrying water, food and medicine could be a guise for Russia to send in equipment for the rebels, whom Kiev and Western countries claim are backed by Moscow. The Russians have denied the assertion.
"Finally, all questions have been resolved ... related to the Russian initiative to send 300 trucks with humanitarian aid," Lavrov said.
The Red Cross, which would have responsibility for distributing the aid, on Saturday said the main holdup was a lack of security guarantees from all sides in the conflict.
Along the border, nothing had changed by Monday afternoon, The New York Times reported.
"There is no movement. Nothing is happening," Sergey Kravchenko, a representative for the Russian Emergency Situations Ministry currently in the Rostov region, told the Times.
Russia has insisted repeatedly it has no plans to invade, and Lavrov again denied Moscow is helping the insurgents. He defended the military buildup on Russia's border, saying: "We must be alert ... when several kilometers from our border a real war is under way."
When asked what happens next, Steinmeier said the foreign diplomats were returning to their respective capitals to consult on how talks could be continued.
Meanwhile, Ukrainian officials said Sunday that government troops had moved into the center of the rebel stronghold of Luhansk, one of two cities that had underpinnned the territory claimed by pro-Russian separatists as a breakaway state.
Officials told The New York Times that army units had raised Ukraine's blue-and-yellow national flag over a police station in the center of Luhansk that had been held by rebels for several months. However, the paper reported that other parts of the city were still believed to be under rebel control.
Luhansk and the larger city of Donetsk have been centers of rebel activity and the ultimate destinations for many Russian fighters, as well as Russian aid. In recent weeks, the rebels have rapidly ceded territory to Kiev's forces amid reports of breakdowns in discipline and the departure of three key battlefield commanders.
However, rebel forces have continued to show formidable fighting capabilities.
Residents in Luhansk have had no running water, power or phone connections for 16 days. Basic foods are in short supply, leading to long lines outside shops, city hall said Monday, adding that fighting continues in and around the city.
Fighting across eastern Ukraine has forced nearly 344,000 people to flee their homes, according to U.N. figures released Friday. The U.N. says about 155,800 have left for other places inside Ukraine while 188,000 more have crossed into Russia.
The flow of refugees only seems to be growing. The U.N. Office for the Coordination of Humanitarian Affairs said more than 22,000 people fled the main rebel-held city of Donetsk last week compared to 6,200 the week before.
The Associated Press contributed to this report.