Ukraine fugitive President Yanukovych to hold news conference, reports say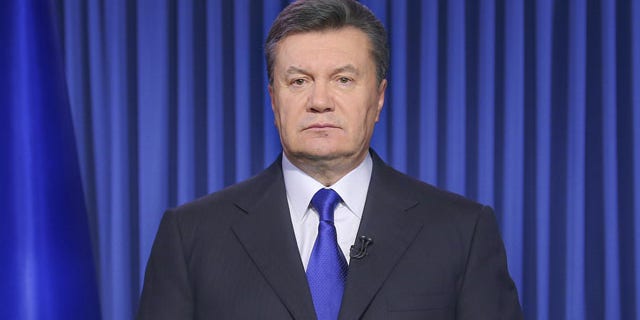 Russian news agencies said Thursday Ukrainian President Viktor Yanukovych will hold a news conference in southern Russia.
Russia granted a request from Yanukovych to provide him with protection from "extremists" Thursday, hours after reports circulated claiming that he had made his way to Moscow.
The reports say the news conference will be held Friday in the city of Rostov-on-Don.
Yanukovych, who fled Ukraine's capital, Kiev, Saturday after being impeached by the country's parliament, defiantly insisted that he remains the legitimate leader of Ukraine. He has not been seen in public since his departure from the city. While the West has recognized the new Ukrainian government, Russia still considers Yanukovych the legitimate president.
Yanukovych's statement was published by three Russian news agencies, all of whom also quoted an unnamed Russian official who said that Yanukovych's request was "satisfied in the territory of Russia."
The Russian news agency RBK, citing a "prominent Russian businessman" and a "high-ranking official," reported that Yanukovych had flown to Moscow Tuesday evening and had been seen at the Hotel Ukraine in the Russian capital. The report went on to claim that Yanukovych had later moved to the Barvikha Clinical Sanitorium, a luxury health resort west of Moscow.
The report was roundly denied by Russian officials, with Mikhail Margelov, the head of the Federation Council International Affairs' Committee, saying, "I know definitely that Yanukovych is not in Russia and, in my modest opinion, Russia would not have granted him asylum." Meanwhile, the general director of the Hotel Ukraine, Dmitry Yelizarov, told the Interfax news agency that Yanukovych had not stayed at the hotel recently.
However, the Associated Press reported that security at the hotel was unusually heavy late Wednesday, with police watching from parked vehicles outside and guards posted throughout the lobby. Some of Yanukovych's allies, also reported to have been at the hotel, may have still been there.
The sanatorium is run by the Russian presidential administration's property department. The spokesman for this department, Viktor Khrekov, told The Associated Press on Thursday that he has no information about the report. A spokesman for Russian President Vladimir Putin also said he had no information about Yanukovych's reported arrival in Moscow.
Officials from Ukraine's interim government said Tuesday that they believed that Yanukovych is on the run somewhere in the country. The former president is wanted on charges of mass murder of civilians related to the death of anti-government protesters in violence that shook Kiev last week. At least 82 people were killed in clashes between police and security forces before Yanukovych was forced out by parliament.
Acting Interior Minister Arsen Avakhov says Yanukovych was spotted last weekend leaving a house in the city of Balaclava with an aide before driving to an unknown destination. Security officials have said that Yanukovych tried to fly from the eastern city of Donetsk to an undisclosed destination shortly after his impeachment on Saturday, but was denied permission to do so because his plane did not have the appropriate documentation.
Meanwhile, Mikheil Saakashvili, former President of the Republic of Georgia, has revealed that Yanukovych made a habit of bragging to other heads of state about the extent of his government's corruption while in office.
"He would talk very loudly about how he had corrupted senior officials, in the supreme court and the constitutional court ... He didn't care who he was talking to; the guy did not have any idea about morality," Saakashvili revealed in an interview with The Guardian. "The other [post-Soviet rulers] might be cynical but not to the extent of denouncing themselves. I wasn't that surprised he would do these things, but I was surprised how open he was about it."
Saakashvili has also revealed the extent of Yanukovych's fixation on former Ukraine Prime Minister Yulia Tymoshenko, who was released from prison shortly after Yanukovych's impeachment Saturday and has vowed to stand in presidential elections set for May 25.
"He had a strange obsession with her," Saakashvili said. "He felt she could never get out of prison or he would be in trouble. European politicians used to come to me and say they had achieved agreement that she would be released, and I was amazed. It was clear he was never going to release her."
The Associated Press contributed to this report.
Click for more from the Daily Telegraph