UK horse racing chiefs play down Dubai vet drugs bust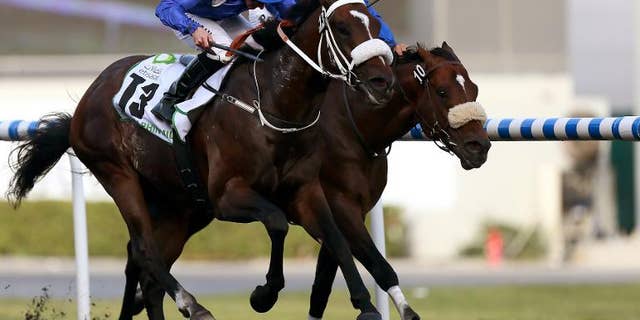 London (AFP) – British horse racing chiefs have insisted there is no connection between the seizure of a shipment of illegal veterinary goods from Dubai and the doping scandal that engulfed the Godolphin flat racing outfit run by the country's ruling monarch Sheikh Mohammed.
British authorities seized the unlicensed products, which included steroidal injections, anaesthetics and anti-inflammatories, from a Dubai government private jet at London's Stansted airport earlier this year.
There was also a subsequent raid by the Veterinary Medicines Directorate on a farm in Newmarket, the eastern Engiish town that is the "headquarters" of British flat racing, owned by the Sheikh's Darley company.
Although these incidents were reported several weeks ago, they were given fresh coverage by Monday's edition of Britain's Guardian newspaper.
Adam Brickell, director of integrity, legal and risk at the British Horseracing Authority governing body, said in a statement issued Tuesday his organisation was told by the British government "they consider there to be no link between the seizure and the racing industry and that the products were not intended for use on thoroughbreds".
Reports in several British newspapers said Princess Haya, the Sheikh's junior wife, was leading an inquiry into the seizures in her role as the president of the International Federation of Equestrian Sports (FEI), something which many commentators said was bound to lead to questions regarding "conflict of interest".
Sheikh Mohammed bin Rashid Al Maktoum is Britain's leading racehorse owner and runs Godolphin Racing, the Maktoum family's private thoroughbred horseracing stable.
The stable was recently hit by the biggest doping scandal in racing history when the BHA revealed 22 horses trained by Mahmood Al Zarooni had tested positive for anabolic steroids.
The BHA said there was no evidence that anyone other than Al Zarooni was involved in the case at the Gulf outfit's Newmarket stables.
Al Zarooni was suspended and later banned.
In the separate sport of endurance racing, Sheikh Mohammed, in his role as a rider, was banned as the result of a failed drug test by his horse Tahan in 2009.
The Sheikh was banned from competition for six months, while Abdullah bin Huzaim, the horse's trainer, was banned for a year.