U.S. urged to aid Egyptian family facing prison for converting to Christianity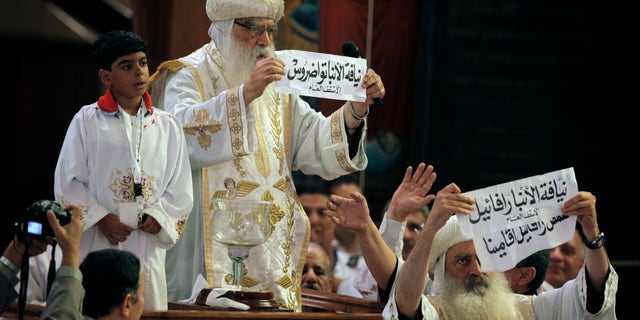 Supporters of an Egyptian woman sentenced with her seven children to 15 years in prison for converting to Christianity say the U.S. government must do more to stick up for her and other religious minorities in the Middle East.
Nadia Mohamed Ali and her children drew the shocking sentence this month from a judge in Beni Suef, a city of 200,000 located about 75 miles south of Cairo. Ali, who was raised a Christian and converted to marry her Muslim husband, sought to return to her spiritual roots when he died. But the Egyptian government zeroed in on her effort to have her and her children's national ID cards altered to mark the conversion.
[pullquote]
"[Egyptians who] change from Islam to Christianity, or come back to Christianity, face difficulties," Ishak Ibrahim, a religion expert with the Egyptian Initiative for Personal Rights, told FoxNews.com.
Rep. Frank Wolf, (R-Va.), co-chairman of the Congressional Human Rights Caucus, said the Obama administration has failed to confront the growing crackdown on Christians in Egypt. President Mohamed Morsi, who was elected last year after the 30-year reign of Hosni Mubarak ended with protests and Mubarak's arrest, has overseen a startling decrease in tolerance for the nation's approximately 8.5 million Coptic Christians.
"We have a strategic and moral imperative to protect and preserve these ancient faith communities, which this administration has failed to do," Wolf said. "Too often we in the West have turned a blind eye to the suffering of persecuted people of faith."
U.S. State Department spokesperson Ariel Vaagen said the Obama administration is concerned about the rights of Christians in Egypt.
"We are following reports of a number of Egyptians sentenced to imprisonment for forging identity documents to alter their religious identity from Muslim to Christian," Vaagen wrote. "We are deeply concerned with Egyptian laws that infringe on an individual's universal right to choose his or her religion and call upon the Egyptian government to promote and protect universal freedoms, including freedom of religion, for all its citizens."
The clerical workers who helped the family change their identity and residence documentation were also arrested, and sentenced to five years in prison. The documents were changed prior to Morsi's election, but the charges weren't pursued under Mubarak.
A spokesman for Egypt's ministry of foreign affairs in Cairo told FoxNews.com on Monday that "we do not have any information" on the case and said the media will have to "wait for our response."
Wolf co-sponsored a bill last week with Rep. Anna Eshoo, (D-Calif.), who sits on the Caucus on Religious Minorities in the Middle East, that would create a special envoy position within the State Department to advocate on behalf of vulnerable religious minorities in the Middle East and South Central Asia.
Although the bill was passed by the House vote by a vote of 402-20, it was blocked in the Senate.
Dwight Bashir, deputy director for policy at the U.S. Commission on International Religious Freedom, told FoxNews.com that Ali's case is a "very harsh sentence" and "a major step backward in terms of laws and policies in Egypt."
Samuel Tadros, an Egyptian Christian and a research fellow at Hudson Institute's Center for Religious Freedom, said the State Department's urging of the Egyptian government to be more tolerant of religion ignores the repressive Constitution Morsi's Muslim Brotherhood pushed through last month.
"It is interesting that the State Department, in its attempt to tone down the gravity of the problem in Egypt, chooses to ignore a document such as the Egyptian Constitution, with its many problematic clauses that limit freedom of religion, speech and thought," Tadros said.
Benjamin Weinthal is a journalist who reports on Christians in the Middle East and is a fellow at the Foundation for Defense of Democracies. Follow Benjamin on Twitter: @BenWeinthal.