U.S. Presses Germany to Take Action Against Bank Said to Be Backing Iran's Nuke Program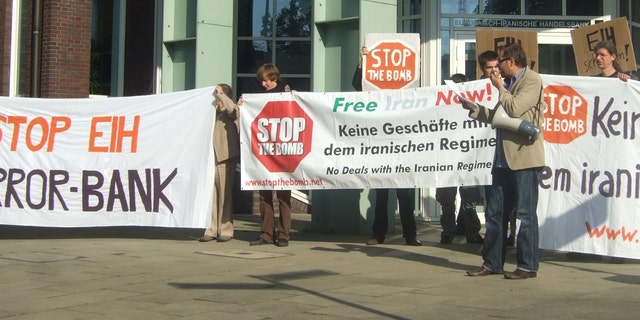 BERLIN-- Germany may be scaling back its trade with Iran, but not fast enough for the United States.
The German government won't close a Hamburg-based bank that the U.S. Treasury Department says helps finance Iran's nuclear weapons and missile programs.
The bank is the European Iranian Trade Bank, or EIH, founded in 1971. The U.S. Treasury has barred it from doing business with any American financial institution.
"EIH has acted as a key financial lifeline for Iran as one of Iran's few remaining access points to the European financial system," the Treasury Department said in a press release.
EIH is essential to German trade with Iran. It is also Iran's gateway to all European Union member states. It facilitates the sale of Iranian crude oil and gas, which is 80 percent of Iran's export revenue and 50 percent of its budget.
India recently announced it will purchase crude oil from Iran and that EIH in Hamburg would handle this multibillion-dollar transaction. India imports 14 percent of its oil from Iran. It turns to EIH because most financial institutions do not deal with Iran.
The Treasury Department also said EIH facilitated the sale of more than $3 million in materials for Iran's missile programs, but gave no details.
Eleven U.S. senators sent a letter to the German foreign minister on Feb. 1 asking that he stop EIH from doing business with Iran. The letter expressed concern about EIH's "continued financial support of Iran's nuclear proliferation activities."
Germany apparently isn't persuaded.
"It's not an option for us to close down a bank simply on the basis that the U.S. has blacklisted it and approached us," said a high-ranking official of the German foreign ministry told Fox News. Speaking on condition of anonymity, he said the German government would not act against the bank unless the U.S. supplies evidence that would stand up in court.
During this interview, the official said Germany has introduced trade barriers against Iran that are tougher than current U.N. sanctions, and that the United States and Israel have acknowledged this tough policy.
"However, we can't simply tell German businesses to stop dealing with Iran unless the company's activities are prohibited by the U.N. or they violate our own laws," he said.
EIH calls itself a German bank, but Matthias Kuntzel, a German political scientist and Iran expert, disputes this.
Kuntzel told Fox News that, like all German banks, EIH is regulated by the nation's Central Bank, but that EIH is owned by the Islamic Republic of Iran through four state-owned banks. He said this information is in Hamburg court records. According to the EIH website, "EIH Bank provides reliable assistance for Iran-related import and export transactions."
According to Emanuele Ottolenghi, an Iran expert and senior fellow at the Washington think tank Foundation for the Defense of Democracy, "the German government made a conscious decision not to close the bank so it would have a revenue source for the many small and medium companies that do business with Iran."
Large German banks have stopped doing business with Iran because of its nuclear program and President Ahmadinejad's threat to destroy Israel. Germany's desire to continue its lucrative trade with Iran is in conflict with its commitment to Israel.
"Germany wants a special relationship with both Israel and Iran," said Kuntzel. "And that's impossible. Germany can't have it both ways."
Germany is Iran's biggest European trade partner. German exports to Iran totaled $4.7 billion from January through November of last year. This was a 5 percent increase over the same period in 2009.
According to the German-Iranian Chamber of Commerce, two-thirds of Iranian industry uses German machines. German equipment and technology is used for mining, drilling and liquefying natural gas. Liquefied gas enables Iran to ship fuel to world markets and generate income in spite of U.N., U.S. and European sanctions.
German equipment was used in the brutal crushing of anti-government protests in June 2009. Nokia-Siemens, a Finnish-German joint venture telecom, has admitted that it sold surveillance equipment to Iran that was used to track down dissidents protesting the re-election of President Ahmadinejad.
In January 2010, Siemens announced it would do no new business with Iran.
Leading the fight against German trade with Iran is "Stop the Bomb," a Berlin-based advocacy group that is staunchly pro-Israel. The organization's founder is Ulrike Becker, who is working on her doctorate on anti-Semitism. Its spokesman, Michael Spaney, buys shares in companies that trade with Iran and speaks at stockholder meetings.
Here's what he said at Siemens 2009 Annual Meeting: "How can a company that profited from slave labor in World War II have trade relations with a country that threatens the Jewish state – the survivors of the Holocaust?"
Critics of German trade with Iran say equipment designated for civilian use can also contribute to Ahmadinejad's nuclear program. According to Ottolenghi, advanced drilling equipment for building highway tunnels can also be used to build underground nuclear facilities. Some have already been discovered.
Many German exports to Iran are transported through the Balkans by truck. According to Nicolas Richter, chief investigative reporter for Munich-based Suddeutche Zeitung, Germany can't afford to inspect all goods bound for Iran. Richter also said that some German equipment is sold to companies in Turkey and Dubai and then shipped to Iran to circumvent the sanctions.
Those who advocate an end to German trade with Iran say it would deal a devastating blow to Ahmadinejad's regime, while continuation of this trade, according to Jonathan Weckerle of "Stop the Bomb," means support for "the most radical elements, responsible for both the nuclear program and the political repression."