U.S., Mexican Officials Say They Can't Confirm Arrest of Hezbollah Operative on Border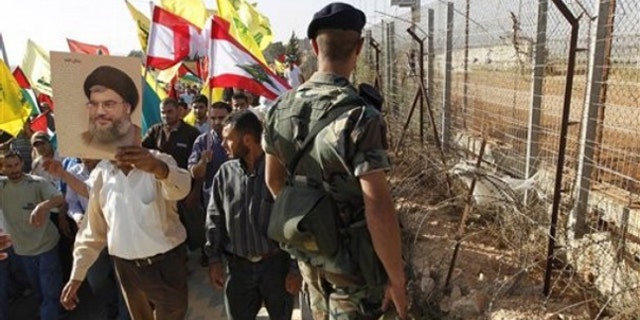 Officials in the U.S. and Mexico say they cannot confirm a widely-circulating report out of Kuwait that a Hezbollah leader has been arrested in Mexico.
The Kuwaiti newspaper Al-Seyassah reported last week that Hezbollah operatives had employed Mexican nationals with ties to Lebanon to set up a network in South America designed to target Israel and the West, and that the group's alleged leader, Jameel Nasr, had been arrested in Tijuana.
According to the report, authorities in Mexico conducted a surveillance operation on Nasr, who traveled frequently to Lebanon to receive instructions from Hezbollah militants.
Nasr -- who was said to be living in Tijuana at the time of his reported arrest -- made frequent trips to other countries in Latin America, including a two-month stay in Venezuela in 2008, according to the report.
Attempts to confirm that an arrest had taken place were unsuccessful. Police officials in Tijuana told FoxNews.com that they have no information pertaining to Nasr and Mexican embassy officials in Washington did not return multiple messages seeking comment. U.S. State Department officials said they could not confirm Nasr's arrest but would be unable to do so if the arrest occurred in Mexico. Officials at Interpol referred inquires to Mexican authorities.
The Department of Homeland Security said it does not have "any credible information" that terrorist groups are operating along America's Southwest border.
On June 23, two weeks before Nasr's reported arrest, U.S. Rep. Sue Myrick, R-N.C., wrote a letter to Homeland Security Secretary Janet Napolitano calling for more "intelligence gathering" on Hezbollah's presence along the U.S.-Mexico border and requested a task force be created to evaluate the terror network's presence, activities and connections to drug cartels.
The congresswoman also noted that officials in Southwestern states have begun noticing tattoos of gang members in prison that are written in Farsi.
"We have typically seen tattoos in Arabic, but Farsi implies a Persian influence that can likely be traced back to Iran and its proxy army, Hezbollah," the letter continued. "These tattoos in Farsi are almost always seen in combination with gang or drug cartel tattoos. These combinations have been increasing in number and point to the fact that these criminals are tied to both Hezbollah and gangs and drug cartels."
Drug cartels and Hezbollah operatives have been partnering along the U.S-Mexico border in part due to Hezbollah's experience in the rugged terrain along the border, according to Myrick's letter, which cited former intelligence officials.
"This terrain is very much like the areas around Israel's borders," the letter continued. "As we well know, Hezbollah is extremely skilled in the construction of tunnels. Israel has time and again found Hezbollah tunnels leading into Israel, some of which are large enough to accommodate trucks. Likewise, these intelligence officials say that the drug cartels, in an effort to dig larger and more effective tunnels, are employing the expertise of Hezbollah."
In a statement issued to FoxNews.com, DHS spokesman Matt Chandler said the agency would respond directly to Myrick and said it does not have any "credible information" on terrorist groups operating along the border.
"DHS secures our border based on an intelligence-driven, layered enforcement approach; an effort that includes advance information, sophisticated technology and partnerships with law enforcement agencies and other countries," Chandler's statement read. "At this time, DHS does not have any credible information on terrorist groups operating along the Southwest Border."
Meanwhile, Jeffrey Addicott, director of the Center for Terrorism and Law at St. Mary's University in Texas, said its "pretty common knowledge" within the intelligence community that Islamic radical groups and their affiliates have been operating in Central and South America for some time, as well as within U.S. cities.
"Every major city in this country has Hamas or Hezbollah sympathizers or supporters," Addicott told FoxNews.com. "They're worldwide organizations. There's a lot of stuff going on under the radar, but we haven't had a large incident to bring it to our attention."