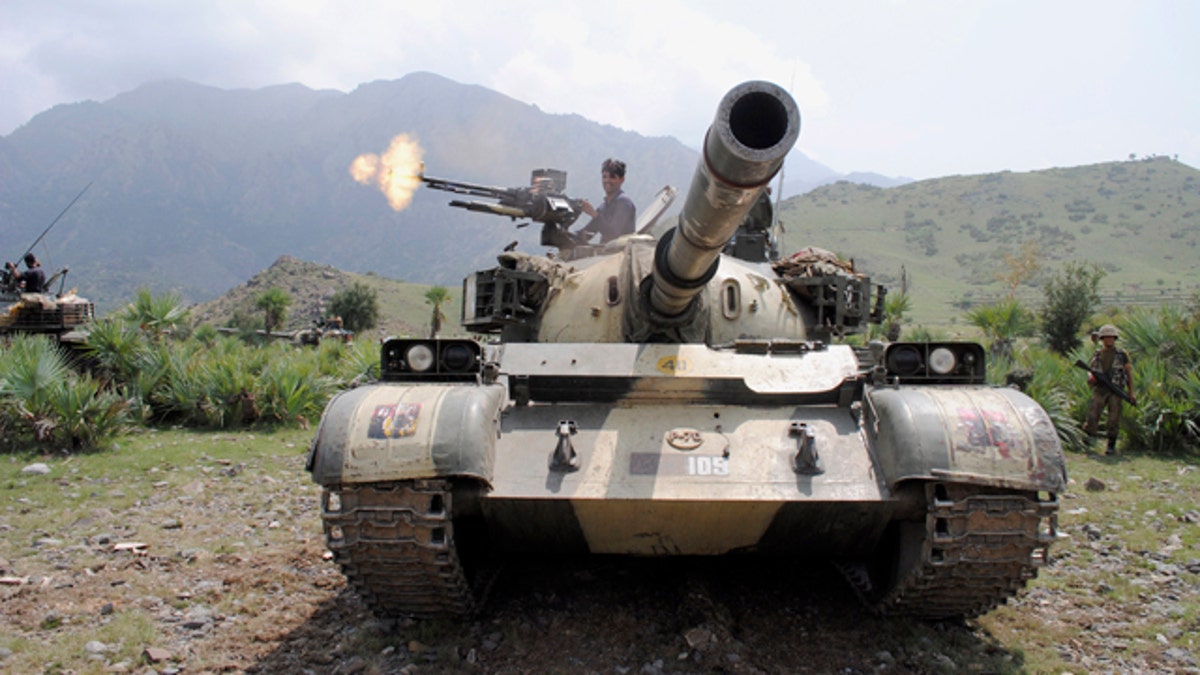 DERA ISMAIL KHAN, Pakistan – Three suspected U.S. missile strikes in northwestern Pakistan in less than 12 hours killed at least 38 alleged militants, an unusually heavy barrage at a time when relations between the two countries are badly strained, Pakistani intelligence officials said Tuesday.
The strikes follow the Obama administration's announcement that it is suspending more than one-third of U.S. military aid to Pakistan until disagreements are worked out. The attacks indicate the White House has no intention of stopping the unmanned drone program even though the attacks have increasingly caused tension with Pakistan.
In the latest strike, suspected U.S. missiles hit a house in Dremala village in the South Waziristan tribal area early Tuesday, killing at least eight alleged militants, said two Pakistani intelligence officials. Two other Pakistani intelligence officials put the death toll from the strike at 13. The village is located close to the border with North Waziristan.
Before dawn Tuesday, suspected U.S. missiles hit a house in Shawal area of North Waziristan, killing 10 alleged militants, said Pakistani intelligence officials.
Late Monday, suspected U.S. missiles hit a house in Gorvak village in North Waziristan, killing at least 20 alleged militants, said two Pakistani intelligence officials. Two other Pakistani intelligence officials put the death toll at 23. The village is located very close to the Afghan border and is often used as a route for militants to cross into Afghanistan.
The Pakistani intelligence officials spoke on condition of anonymity because they were not authorized to talk to the media.
The areas where the strikes occurred are very dangerous, so it is difficult to independently confirm the intelligence officials' accounts.
Pakistan's reluctance to target Afghan militants based in North Waziristan who stage cross-border attacks against NATO troops in Afghanistan has been one of the main sources of tension with the U.S.
Pakistan says its troops are stretched too thin by operations in other parts of the country, but many analysts believe the government is hesitant to cross militants with whom it has historical ties and who could be useful allies in Afghanistan after foreign forces withdraw.
In response, the Obama administration has dramatically increased drone strikes in North Waziristan over the past couple of years and has also hit areas in South Waziristan. The U.S. refuses to publicly acknowledge the covert CIA drone program in Pakistan, but officials have said privately that the strikes have killed senior Taliban and Al Qaeda officials.
Pakistan is widely believed to have supported the strikes in the past, even though officials often criticize them publicly as a violation of the country's sovereignty. But that support has become less certain in recent months, especially following the covert U.S. raid that killed Al Qaeda chief Usama bin Laden on May 2 in a Pakistani garrison town not far from Islamabad.
The raid humiliated the Pakistani military, which was not told about it beforehand. U.S. officials said they kept Pakistan in the dark because they were worried that someone would tip off bin Laden.
The relationship between the two countries has spiraled down since then, and President Barack Obama's chief of staff, William Daley, said Sunday that the U.S. was suspending more than one-third -- or $800 million -- of its military aid to Pakistan until the two countries can patch up their relationship.
Pakistan's defense minister, Chaudhry Ahmad Mukhtar, said in an interview with Pakistani TV Express 24/7 that Pakistan could withdraw its forces from the border regions along Afghanistan due to the cut off in funds.
But that was contradicted by the army, which holds far more power than the civilian-run defense ministry and which has downplayed the aid suspension.
After a meeting of top commanders Tuesday, the army issued a statement saying it was determined to "fight the menace of terrorism in our own national interest using our own resources."