Two L.A. Sheriff's Deputies Indicted For Beating Of Handcuffed Prisoner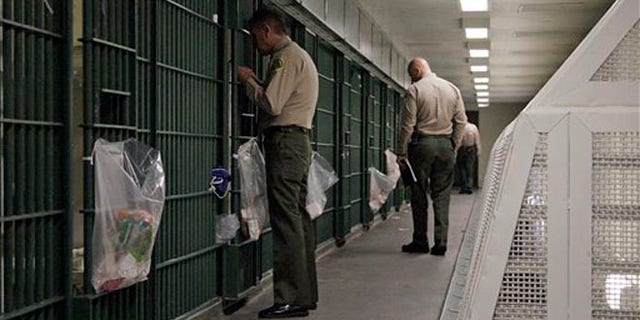 LOS ANGELES (AP) – Two Los Angeles County sheriff's deputies were charged with beating a handcuffed prisoner — the latest indictments in an expanding federal probe of alleged jail abuses.
Thursday's indictments bring to 20 the number of current and former sheriff's deputies charged with corruption and civil-rights offenses. The allegations sparked reforms in the nation's largest jail system and cast a cloud over the final year of Sheriff Lee Baca, who retired last week.
The interim sheriff, John Scott, said in a statement that his top priority is to continue the reforms.
"Although today's indictment should not be taken as a reflection of the outstanding work that the overwhelming majority of deputies perform every day, it does underscore that everyone in this department should and will be held accountable for their actions," he said. "Abuse of authority will not be tolerated."
The new indictment was handed up by a federal grand jury against deputies Joey Aguiar, 26, and Mariano Ramirez, 38. It contends that in 2009, they punched, kicked and pepper-sprayed an inmate who was handcuffed and wore a waist chain at the downtown Men's Central Jail. They also allegedly hit him with a flashlight, and then wrote false reports to cover up the abuse by claiming that the victim had kicked and tried to head-butt Aguiar.
The deputies are charged with conspiring to violate civil rights, deprivation of rights under color of law that caused bodily injury and falsifying reports. The falsification charge carries a maximum penalty of 20 years in prison, while the other charges carry 10-year maximum penalties.
The deputies were not immediately arrested, but they must appear in federal court for arraignment on March 6, according to the U.S. attorney's office.
One of the deputies had been relieved of duty because of an earlier and unrelated incident, and the Sheriff's Department on Thursday began the process of relieving both men of duty without pay, said a statement by Capt. Mike Parker.
A message seeking comment from a union, the Association for Los Angeles Deputy Sheriffs, was not immediately returned.
The 18 current and former employees previously indicted are charged with beating inmates and jail visitors, falsifying reports, and trying to obstruct an FBI probe of the jail system.
Follow us on twitter.com/foxnewslatino
Like us at facebook.com/foxnewslatino