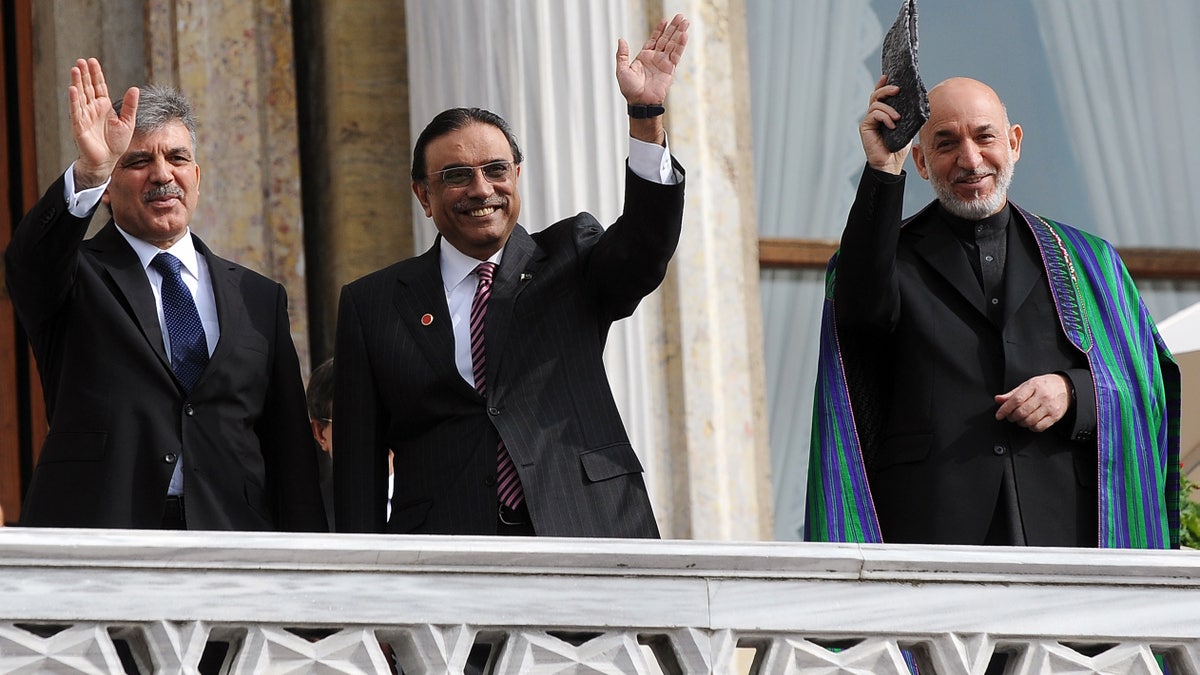 ISTANBUL -- Diplomats are campaigning this week for a stable Afghanistan after the planned withdrawal of international combat forces by the end of 2014, a goal imperiled by militant attacks, a weak Afghan government and the conflicting interests of regional players.
International delegates were converging on Istanbul on Tuesday before the conference on security and economic development in Afghanistan against a backdrop of high-profile assaults in the Kabul area in the last few months.
Afghan President Hamid Karzai and President Asif Ali Zardari of Pakistan met ahead of the regional conference on Wednesday amid tension over Afghan and U.S. demands that Pakistan do more to curb militant activity and sanctuaries on its territory. Pakistan denies it shelters or supports the Haqqani network, a Taliban wing blamed for an attack on the U.S. Embassy in Kabul in September and other deadly operations.
The title of the meeting Wednesday is "Security and Cooperation in the Heart of Asia," yet diplomats in Afghanistan, regional countries and the West have downplayed expectations.
Fourteen regional countries are to be represented: Afghanistan, China, India, Iran, Kazakhstan, Kyrgyzstan, Pakistan, Russia, Saudi Arabia, Tajikistan, Turkey, Turkmenisan, Uzbekistan and the United Arab Emirates.
Germany, France and other Western countries with troops deployed in Afghanistan were sending envoys to show support at Wednesday's conference. U.S. Secretary of State Hillary Rodham Clinton had planned to attend, but canceled her trip because her mother is ill.
Iran, at odds with the international community over its nuclear program, is sending its deputy foreign minister, Mohammad Ali Fathollahi.
"The Istanbul conference is an opportunity for us in Afghanistan and the region to give real meaning to a slogan that has been repeated around for many, many years -- that Afghanistan's peace and prosperity are connected to the peace and prosperity of the region," Afghan deputy foreign minister, Jawed Ludin, said this month.
Turkey's NTV television said Afghanistan and Pakistan are expected to sign cooperation agreements, including conducting joint military drills.
But Afghanistan's broader aims were not likely to be achieved in Turkey.
The war-weary nation wants countries to sign confidence-building measures, such as exchanging information on defense spending and numbers of troops deployed on borders; visiting military bases; pledging not to violate territorial integrity or interfere in the internal affairs of sovereign states; relaxing visa requirements; expanding trade; and cooperating on border management.
A senior U.S. administration official said the regional countries were expected to reiterate a commitment to sovereignty, endorse a transition to Afghan security leadership, endorse Afghan efforts for a political solution to the war and help Afghanistan develop a sustainable economy.
The official briefed reporters on condition of anonymity because of the sensitivity of the discussions.
Clinton was in Pakistan earlier this month to press the nation to send its army after militants the U.S. says get special protection from the Pakistani government, while making the case that Pakistan should use its influence with Taliban militants to encourage peace in Afghanistan.
Pakistan has deployed 170,000 soldiers to its eastern border with Afghanistan and more than 3,000 soldiers have died in battles with militants. Pakistani leaders bristle at U.S. criticism that they have not done enough or that they play a double game, fighting militants in some areas and supporting them in others where they might be useful proxies in a future conflict with India, its archenemy.