Turkey strikes Kurdish rebels in response to deadly Ankara bombing
Turkey carried out airstrikes against Kurdish rebel targets in northern Iraq Monday in retaliation for a car bomb attack in Ankara a day earlier that killed at least 37 people.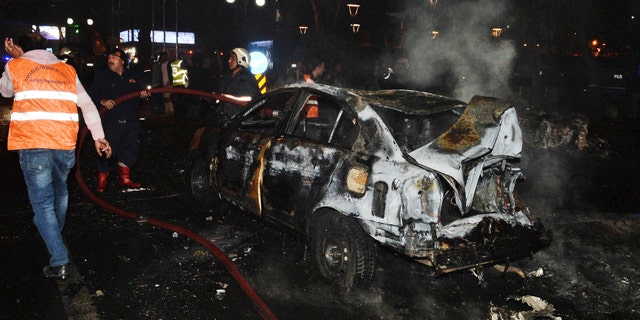 The state-run Anadolu Agency said nine F-16s and two F-4 jets raided 18 positions of the Kurdistan Workers' Party, or PKK, including in the Qandil mountains where the group's leadership is based. Ammunition depots, bunkers and shelters were among the targets hit.
Police, meanwhile, carried out raids in the southern city of Adana, detaining 38 suspected PKK rebels, the agency reported. Fifteen suspected Kurdish militants also were detained in Istanbul, Anadolu said.
The PKK has been designated a terror organization by Turkey, the U.S. and the European Union. A fragile peace process between the PKK and the Turkish state collapsed in July, reigniting a battle that has cost tens of thousands of lives since 1984.
Health Minister Mehmet Muezzinoglu said three more people died overnight from wounds suffered in the Sunday night suicide attack that targeted buses and people waiting at bus stops in the heart of Ankara. Around 125 people were wounded in the blast, with 71 people still hospitalized. Of those, 15 were in serious condition.
A senior government official told The Associated Press that authorities believe the attack was carried out by two bombers — one of them a woman — and was the work of Kurdish militants. He spoke on condition of anonymity because the investigation was continuing.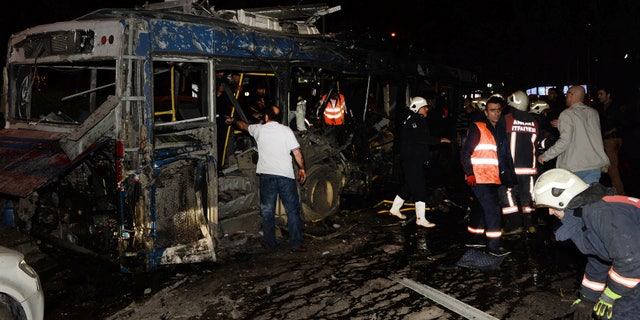 It was the second deadly attack blamed on Kurdish militants in Ankara in the past month and President Recep Tayyip Erdogan vowed to bring "terrorism to its knees."
Sunday's bombing came just three weeks after a suicide car bombing targeted buses carrying military personnel, killing 29 people. A Kurdish militant group that is an offshoot of the PKK claimed responsibility for the Feb. 17 attack, but no group has claimed responsibility for Sunday's attack.
The private NTV news channel said several vehicles caught fire following Sunday's blast, which also shattered the windows of shops that line Ataturk Bulvari -- the city's main boulevard -- and Kizilay square.
Dogan Asik, 28, was on a packed bus when the explosion occurred.
"There were about 40 people," said Asik, who suffered injuries to his face and arm. "It [the bus] slowed down. A car went by us, and 'boom' -- it exploded."
Turkey has been imposing curfews in several flashpoints in the southeast since August to root out militants linked to the PKK, who had set up barricades, dug trenches and planted explosives. The military operations have raised concerns over human rights violations and scores of civilian deaths. Tens of thousands of people have been displaced by the fighting.
Turkish authorities on Monday announced another curfew, to go into effect at 5 p.m. ET in the city of Sirnak, near the border with Iraq, signaling that the military was preparing to battle Kurdish militants there.
The U.S. Embassy had issued two days earlier a security warning about a potential plot to attack Turkish government buildings and housing in one Ankara neighborhood and asked American citizens to avoid those areas. The car bomb went off in a different neighborhood.
As with the previous bombings, Turkish authorities quickly imposed a ban Sunday preventing media organizations from broadcasting or publishing graphic images of the blast or from the scene. Anadolu Agency said the government-run telecommunications agency had decided to block access to websites that published images from the scene.
The country's pro-Kurdish party, the Peoples' Democratic Party, meanwhile, condemned the attack and said it shared the pain. The statement was significant because the party has frequently been accused of being the political arm of the PKK — an accusation it denies — and of not speaking out against PKK violence.
The attack drew international condemnation in statements issued by Israeli Prime Minister Benjamin Netanyahu, Russian President Vladimir Putin, U.N. Secretary-General Ban Ki-moon and NATO Secretary-General Jens Stoltenberg, among others.
U.S. State Department spokesman John Kirby reaffirmed Washington's "strong partnership with our NATO ally Turkey in combatting the shared threat of terrorism."
About 210 people have died in five suicide bombings in Turkey since July that were blamed either on the Kurdish rebels or the Islamic State group. Turkey has joined U.S.-led efforts to fight ISIS in Syria, and the deadliest attack came in October when a bombing at a peace rally outside Ankara's main train station killed 102 people.
"All five attacks are linked to the fallout of the Syrian civil war," said Soner Cagaptay, a Turkey expert at the Washington Institute in emailed comments. "Ankara's ill-executed Syria policy ... has exposed Turkey to great risks."
As Turkey on Monday began to hold funeral services for at least 17 of the people who lost their lives, details emerged about some of the victims, which included the father of Galatasaray soccer team player Umut Bulut.
Anadolu said the player's father, Kemal Bulut, had watched Galatasaray play for Ankara-based team Genclerbirligi in the city — after visiting his son at his hotel — and was returning home when the explosion occurred. Umut Bulut had returned to Istanbul in the evening unaware that his father had been caught up in the blast and learned of his father's death as he prepared to start training on Monday.
Police officer Nevzat Alagoz, who also perished in the blast, was waiting for a bus to take him home after policing the game, Anadolu reported.
Another victim, Ozan Akkus, a 19-year-old engineering student, had lost his close friend in the October peace rally attack, Hurriyet newspaper said.
The Associated Press contributed to this report.