Turkey police fire tear gas to disperse protesters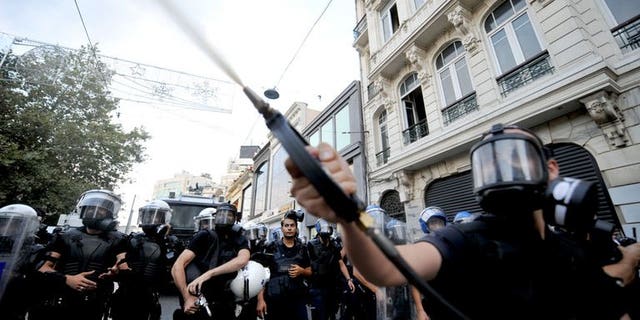 ISTANBUL (AFP) – Turkish riot police on Wednesday fired tear gas and water cannon to disperse hundreds of anti-government protesters at Istanbul's Taksim square, the epicentre of violent demonstrations which rocked the country in June.
At least four people were injured, eye witnesses said, after police stepped in to break up a crowd of around 500 protesters clustered at the square.
"We'll resist until we win!" the protesters shouted. "This is only a beginning, we'll continue to fight!"
Cat-and-mouse games between police forces and protesters ensued in the streets around the square.
Turkey's Islamic-rooted government was shaken in June by a wave of protests that presented it with the biggest public challenge since coming to power more than a decade ago.
The unrest was sparked by plans to redevelop Gezi Park, which is adjacent to Taksim square, but soon evolved into a broader movement against the government, seen as increasingly authoritarian.
According to police estimates, some 2.5 million people took to the streets in nearly 80 cities for three weeks to demand Prime Minister Recep Tayyip Erdogan's resignation.
Five people were killed and more than 8,000 injured in the civil unrest.
The authorities had closed the park to the public after police evicted protesters on June 15. It was reopened earlier this month but demonstrators remain banned.