Trial of coup suspects in United Arab Emirates offers window into wider fears in Gulf region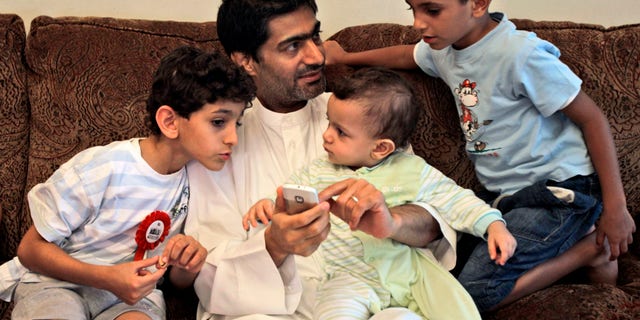 DUBAI, United Arab Emirates – One is a former judge. Another is a past president of the lawyers' association in the United Arab Emirates. Among the more than 90 suspects are also teachers, civil servants, business owners and even a cousin of one of the UAE's ruling sheiks.
Prosecutors describe them as members of an Islamist network seeking to topple the leadership in one of the wealthiest and most stable corners of the Middle East.
Their defenders portray the group as victims of an Arab Spring-induced panic among Gulf Arab rulers who perceive threats from many directions, including Egypt's ruling Muslim Brotherhood and reformist chatter on social media.
But whatever emerges from the mass trial that began last month in Abu Dhabi also speaks to issues that reach well beyond the allegations and sullied reputations in the UAE's tight-knit professional communities. The case — from the arrests to the court sessions to the media controls on coverage — reflects a fundamental retooling of how the Western-allied Gulf states approach the business of using and keeping their power.
Once desperate to keep political crackdowns out of sight, Gulf authorities have increasingly used high-profile tactics to try to keep a lid on calls for reforms. Hardly a day goes by without some backlash in the Gulf Arab states, an arc of ruling families from Kuwait to Oman.
Dozens of online activists and social media contributors have been jailed for posts deemed offensive to rulers. Espionage allegations have been trumpeted, including Saudi Arabia's claims last month that officials broke up a suspected Iranian-linked spy ring.
Saudi officials, meanwhile, are considering linking social media accounts to national IDs in a move that critics fear could increase monitoring. The country's top cleric, Grand Mufti Sheik Abdul-Aziz Al-Sheik, denounced Twitter users last month as being part of "a council of clowns."
"There is a paradox in all this," said Christopher Davidson, an expert on Gulf affairs at Britain's Durham University. "There is nothing at the moment to suggest the Gulf regimes are in any immediate danger, but they are definitely acting like they are. This might even have the effect of accelerating dissent."
Caught in between is Washington.
U.S. interests are deeply intertwined with the Gulf's Sunni sheiks and kings, who allow American military bases, make major arms purchases and share Washington's worries about Iran's nuclear program and its expanding military profile. But the U.S. also has raised concern about the Gulf's clampdown on dissent, particularly the squeeze on social media in a region that has one of the world's highest per capita use of Facebook and Twitter.
"America is not going to abandon its Gulf allies. There's far too much at stake," said Mustafa Alani, an analyst at the Gulf Research Center based in Geneva. "These crackdowns, however, make it increasingly hard for the Americans to look the other way."
For decades, the framework for the Gulf's ruling families has been essentially a swap: They offered generous handouts such as state jobs and discount-rate housing in exchange for political passivity.
The Arab Spring reopened some festering grievances, led by Bahrain's uprising by majority Shiites and lower-level unrest in Saudi Arabia's Shiite pockets. It also encouraged other challenges to the status quo such as youth demanding more job opportunities in Oman and Kuwaiti opposition lawmakers growing bolder in political battles with the ruling clan.
The UAE has not faced street protests. Yet it has waged some of the most systematic sweeps in the Gulf against perceived opposition from an Islamist society called al-Islah, or Reform, which for years was allowed to operate on the margins as long as members did not push against the ruling system.
The regional turmoil, however, upended the pact. UAE authorities began to see al-Islah as a pathway for the Muslim Brotherhood, which claimed power in Egypt after the fall of Hosni Mubarak and — in the UAE's view — seeks to eventually bring down Western-friendly dynasties in the Gulf.
In early March, a total of 94 people were put on trial on charges of seeking to overthrow the UAE government and holding ties to the Muslim Brotherhood and other groups. The defendants pleaded not guilty and complained of abuses after their arrests.
Among the group — including more than a dozen women — are several lawyers led by Mohamed Al-Roken, former head of the UAE Jurists' Association; judges such as Ahmed Al-Zaabi, who has been detained more than a year; and Sultan Bin Kayed Al-Qasimi, a senior figure in al-Islah and the cousin of the ruler in Ras al-Khaimah, the northernmost of the UAE's seven emirates. Others include university professors, businessmen and bloggers.
UAE officials decline to discuss details of the case or comment on the ongoing trial, which only hand-picked media have been allowed to observe. The next session is scheduled for April 16.
But senior security figures such as Dubai police chief Lt. Gen. Dahi Khalfan Tamim have repeatedly raised alarms about alleged Muslim Brotherhood infiltration. In October, the UAE's foreign minister, Sheik Abdullah bin Zayed Al Nahyan, told reporters that "the Muslim Brotherhood does not believe in the nation-state."
Egypt has grown increasingly bitter about the comments and crackdowns, including agreements by the six-nation Gulf Cooperation Council for greater security collaboration in areas including domestic opposition.
At an Arab League summit last month, Egyptian President Mohammed Morsi issued thinly veiled warnings to Gulf states to respect Egypt's policies. Last week, Egypt's foreign ministry summoned a UAE envoy in Cairo for talks concerning 11 Egyptians detained on charges of training the alleged coup plotters.
"The UAE crackdowns are definitely part of wider efforts across the Gulf against what is seen as threats," said Rori Donaghy, a coordinator at the London-based Emirates Center for Human Rights. "The collective idea of security in the region means we will likely be seeing more arrests and more trials with narratives such as coup plots."
So far, the UAE's case against the 94-member group has been built around social media posts and interviews on issues such as the wave of changes in the region and the limited public voice in political affairs of the UAE, which is led by a federation of seven ruling families.
In one court session, the defense lawyer tried to poke holes in claims about allegedly subversive literature favored by al-Islah, including works by Muslim Brotherhood writer Sayyid Qutb, who was hanged by Egyptian authorities in 1966. The books, the lawyer noted, are not banned in the UAE.
Dubai-based rights activist Ahmed Mansour sees the trial as part of the UAE's attempts to crush any group that could be "physiologically empowered by the Arab Spring."
Mansour and four others — including a former legal adviser to the UAE's armed forces — were among the first to face arrests for alleged anti-state crimes in early 2011 after signing an online petition urging for political reforms, including free elections for parliament.
"It's clear that there are some agreements between some of the (Gulf) counties, on the highest and most powerful levels, that no chances should be taken and no compromise should be allowed," he said. "This is happening no matter what the cost is and how painful that could be on internal or international levels."