Traffic cam's stunning images of snowy owl go viral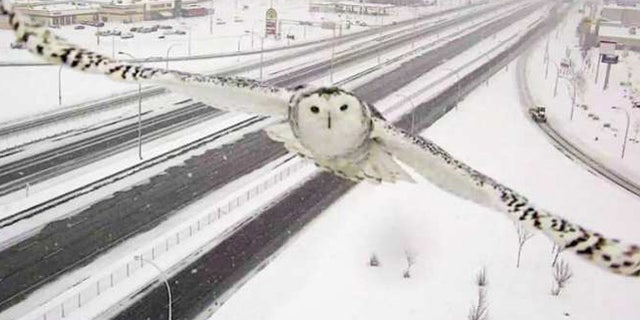 NEWYou can now listen to Fox News articles!
A snowy owl's brief encounter with a Montreal highway camera turned into a social media sensation the other day.
A Transport Quebec Camera near Trudeau Airport captured the majestic creature in flight Jan. 3, the Montreal Gazette reports.
The images went viral Thursday after Quebec Transport Minister Robert Poëti tweeted about the owl to his 5,400 followers, the paper reported.
His post was retweeted hundreds of times, shared by thousands on Facebook and had reached millions worldwide, the Gazette reported.
A snowy owl sighting in Montreal is not that unusual.
"Actually, it's fairly common to see them in the Montreal area," Barbara Fei, director of the McGill Bird Observatory, told the Gazette.
"That stretch of highway seems to be a bit infamous for having one or two hanging around. Perhaps it's just the area, with the airport nearby, they like wide open spaces," she said.