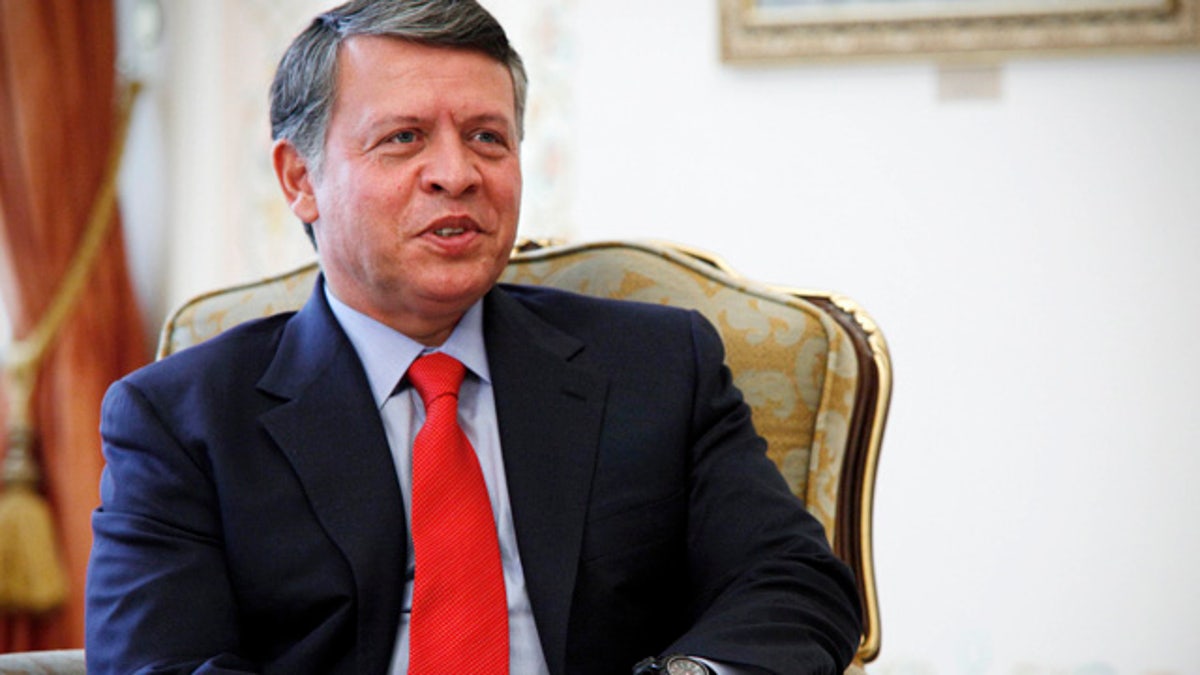 AMMAN, Jordan – Stone-throwing youths in a poor southern town exploded in anger at rough handling by police during a visit by King Abdullah II on Monday, a symptom of simmering popular frustrations in Jordan even as the monarch moves toward democratic reform.
The spurt of violence, rare in Jordan while other Arab states were rocked by turmoil in recent months, pointed up Jordanians' resentment of heavy-handed control by the Hashemite kingdom's security forces.
Along with steps toward political liberalization, "we have the task to dismantle the security's grip in order to have democracy and rule of law," said democracy activist Laila Hamarneh.
The trouble in Tafila, 125 miles (200 kilometers) south of this capital city, came a day after Abdullah went on national television to announce a major concession to months of peaceful protests, accepting the idea of elected governments, replacing Cabinets appointed by him.
On Monday, he traveled to Tafila on what palace officials described as a fact-finding inspection of infrastructure projects and to hear people's grievances. But Tafila residents said their mayor had barred young unemployed people from taking part in a town meeting with the king.
When some 60 youths tried to line sidewalks as the king's motorcade approached, to hand-deliver petitions, anti-riot police pushed them away "savagely," and the crowd responded with stones, said Tafila shopkeeper Yazan Abu Yousef, 26.
"We wanted to give petitions to the king," said a young unemployed man, who declined to be identified. "We wanted to tell him about our difficulties in not finding jobs, but we were beaten and humiliated."
Government officials said the violence was not directed at the king and he was unharmed, but 26 police officers were injured. There was no word on injuries among local residents.
They said Abdullah, in his Tafila meetings, pledged new funding for local development projects and other help for townspeople, suffering through high unemployment and inflation. But the security apparatus that many say has turned Jordan into a police state generates as much anti-government resentment as the poverty afflicting much of the kingdom's population of 6 million.
Jordan's intelligence, police and other security bodies assist their U.S. ally in such troubled areas as Iraq and Afghanistan, and share information with Israel in its struggle against Palestinian and other Arab militants. Jordanians themselves appreciate the agencies' foiling of al-Qaida and other terror plots.
But domestically the security structure intrudes into ordinary Jordanians' lives by controlling permissions for jobs, for acquiring immigration visas and other privileges, and sometimes clamp down on regime critics.
"Literally, one can't do anything in Jordan without security's approval," noted Omar Abu Seif, 27, an unemployed man.
King Abdullah's Sunday announcement was his first indicating a willingness to cede some powers to the people, by allowing election of a prime minister and other ministers from among parliamentary majorities, replacing the current system of royal appointment of Cabinets. He didn't say when the change would take place.
Abdullah must tread a delicate line in reforming Jordan's electoral system, which dissidents complain is skewed to support for political control by the monarchy. He has to strike a balance between his traditional Bedouin allies and Palestinian refugees and their descendants, who fled successive wars with Israel and have long demanded a greater political role.
"Jordanian Bedouins want to cling to the power they have, while Palestinians want more rights," said Hani Horani, head of the Jordan Research and Study Center. At the same time, he said, "both don't want the boat rocked."
Abdullah is also faced with powerful conservatives within his own ranks, wary of reforms.
"People tell us that the king is talking to locals and foreigners about his willingness to move forward," said political analyst Mustafa Hamarneh. "But conservative elements in the upper levels of power are mobilizing against this very process of openness, and the forces of democracy are not very strongly rooted yet."
He said the outcome of pro-democracy revolutions in Egypt and Tunisia will likely affect the course of events here.
Abdullah is hedging his bets on additional U.S. aid and a new agreement with oil-producing Gulf Arab states to ease economic woes in a country barren of natural resources and saddled by a multibillion-dollar foreign debt.