Toronto van attack leaves 10 dead, suspect in custody, police say
Toronto cops nabbed the suspected driver who plowed into a group of people on a crowded city street Monday afternoon, leaving 10 people dead and 15 others injured, Deputy Police Chief Peter Yuen said.
Police confirmed to Fox News the arrest of the suspect, which came just minutes after news of the incident broke. "The van involved in multiple pedestrians stuck in the Yonge and Finch area of Toronto has been located and the driver arrested," Toronto police tweeted. The identity of the driver has not been released.
Cops had initially said eight to 10 people were hit near Yonge Street and Finch Avenue just before 1:30 p.m. A nearby hospital tweeted that it took in seven patients.
After striking the pedestrians, the driver sped off, CBC reported. Witnesses said the driver was moving fast and appeared to be acting deliberately, but police said they did not yet know the cause or any possible motive.
Photos from the site of the collision showed pedestrians attempting to help people on the ground and multiple bodies covered by sheets.
A witness who identified himself as Nick said he was studying when he saw a truck "flash by" in the area. He said he "witnessed a few people pass away in front" of him as others screamed.
"[The driver] was definitely in control of what he was doing…he knew what he was doing," Nick told Global News.
Alex Shaker, who witnessed the incident, said the van was speeding down the street before it mounted the curb and plowed into people.
"He started going down on the sidewalk and crumbling down people one by one," Shaker told CTV. "He just destroyed so many people's lives. Every single thing that got in his way."
A worker at a gym in a building next to the site of the incident told Fox News that employees were told to stay inside as first responders tended to the scene.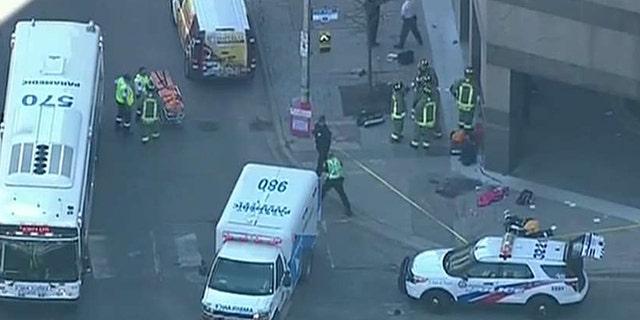 "Ryder is aware of an incident involving a Ryder rental van striking pedestrians in Toronto on Monday April 23rd in the early afternoon," the rental company told Fox News. "We are saddened by this tragic event, and our deepest sympathies go out to those impacted. We take the safety and security of our entire fleet very seriously and we are cooperating fully with authorities."
"Our thoughts are with all those affected by the terrible incident at Yonge and Finch in Toronto," Canadian Prime Minister Justin Trudeau tweeted. "Thank you to the first responders working at the scene – we're monitoring the situation closely."
"We are all unsettled and disturbed," Kathleen Wynne, the premier of Ontario, told reporters, emphasizing that she was awaiting further details. "We have to wait until there is information before we start talking," she said. "As details are available and as it is appropriate, then that information will be made public."
Ralph Goodale, Canada's minister of public safety, said the country hasn't changed its terrorism alert level and he has no information that would suggest a need to do so.
"Investigators are appealing for information from the public," Toronto police said, adding that a hotline for witnesses will be announced later Monday.
"This is a time when this community should come together," Toronto Mayor John Tory said at an afternoon press conference. "I hope that we will, as a city, remind ourselves of the fact that we are admired around the world for being inclusive and for being accepting and understanding and considerate."
The crash unfolded as Cabinet ministers from the G7 countries were gathered in Toronto to discuss a range of international issues in the run-up to the G7 meeting near Quebec City in June.
Speaking at the event on Monday, Chrystia Freeland, Canada's Minister of Foreign Affairs, expressed "sadness and tremendous sympathy for the victims of this incident."
Investigators are expected to remain on the scene for several days.
Fox News' Greg Norman, Shira Bush and The Associated Press contributed to this report.