Tokyo city officials survey disputed islands in showcase meant to send ownership message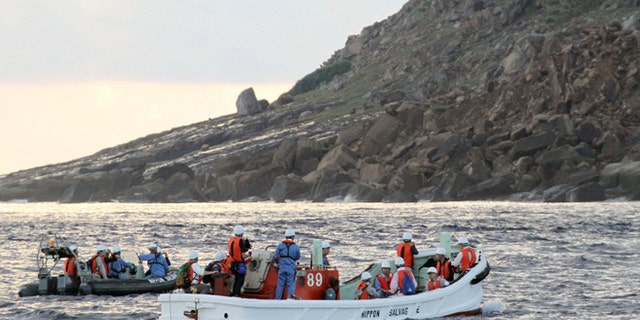 Tokyo city officials planning to buy tiny islands at the center of a longtime territorial dispute with China surveyed the area and took water samples Sunday in a showcase meant to send a message of ownership.
The boat, carrying a survey team of 25 experts and officials, as well as journalists from news organizations including The Associated Press, circled around the five uninhabited islands in the East China Sea, which are controlled by Japan but also claimed by China and Taiwan.
Waters were calm beneath clear skies for the endeavor, which city officials have said is crucial and would include measuring the water depth to build a dock at the islands, known as Senkaku in Japan and Diaoyu in China. Japan's central government did not grant permission to land on the islands.
"It is an undeniable fact that the islands are Japanese territory, so our task is to see how we can best maintain that," Yoshihiko Yamada, a special adviser to the city's team, said aboard the boat.
The boat departed late Saturday from Okinawa in southwestern Japan, and the team aboard was scheduled to study the islands for about 10 hours, before heading back later Sunday.
A symbol of patriotic pride for some people in China and Japan, the islands are near key sea lanes and are surrounded by rich fishing grounds and untapped natural resources.
China's Foreign Ministry had no immediate comment on the trip, but the voyage was grabbing headlines in the Chinese media. The nationwide news broadcast on China Central Television called the survey "illegal."
Tokyo Gov. Shintaro Ishihara has raised 1.45 billion yen ($19 million) in private donations over the last several months to buy the islands from the Japanese family that owns them.
Despite the squabbling over the islands, economic ties between China and Japan are growing. Major Japanese manufacturers such as Nissan Motor Co. and Sony Corp. are eager to get a slice of the Chinese market, while ailing companies like Sharp Corp., which makes flat panels for TVs, are wooing Chinese investment.
So Japan has much to gain by avoiding tensions with China. But Ishihara, an old-style nationalist, remains extremely popular, having been re-elected as Tokyo governor three times following a successful stint in parliament.
Seiichiro Sakamaki, who was leading the Tokyo team for the survey, stressed that the city was going to buy the islands.
"The basic point is that those who are about to buy property need to look at it," he said.
Hundreds of Chinese have staged anti-Japanese demonstrations in several of China's cities over the islands. Anti-Japanese sentiments run deep in China because of bitter memories of atrocities committed by Japanese soldiers during World War II.
This past week in Beijing, a man ripped the Japanese flag off a car carrying Japan's ambassador to China. Last month, Japan detained and later released 14 Hong Kong activists who landed on the islands. Japanese activists have made similar trips.