Thousands turn out for anti-Putin protest in Moscow despite crackdown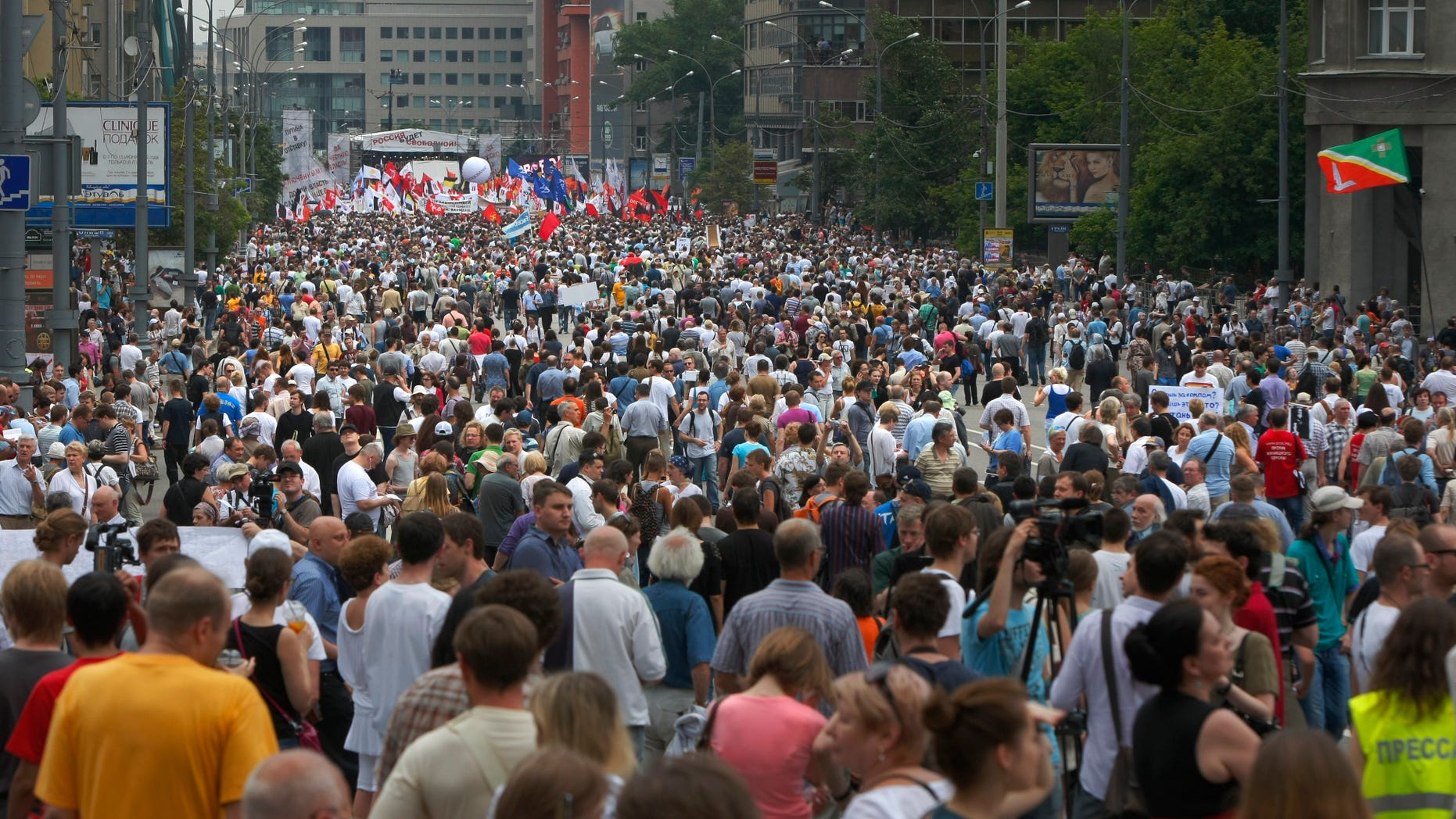 MOSCOW – Undeterred by a sudden escalation in the Kremlin's crackdown on the opposition, tens of thousands thronged Moscow's tree-lined boulevards in the first mass protest against Vladimir Putin since he returned to the presidency in May.
The crowd was even larger than at a demonstration on the eve of Putin's inauguration, which disintegrated into violent clashes and ushered in the crackdown. Tuesday's rally ended peacefully, as both protesters and riot police took pains to prevent a confrontation as tensions were already running high.
Putin himself spoke of the need "to strive for mutual understanding and to find compromise." Although in his address on Russia Day, a national holiday, he also warned of the dangers posed by attempts to split society
Putin has taken a tougher stance on the opposition since beginning his third term on May 7, but in recent days the pressure has risen markedly. Some of the most charismatic protest leaders were called in for questioning Tuesday, a day after investigators raided their apartments, carting away computers, cell phones and in at least one case envelopes stuffed with cash.
The interrogations are to continue throughout the week. Fines for taking part in unauthorized rallies were stiffened under a new repressive law hastily passed by parliament last week and signed by Putin on Friday.
The Kremlin appeared to be betting that the tougher measures would frighten away the well-educated, citified protesters, many of them young, white-collar professionals. But those who came out on Tuesday said they were determined to make their voices heard.
"I came just so that I can show this enormous, expansive Russia that there are people who aren't afraid of the laws that the government passes," said Tatyana Fedorenko, a retired teacher.
Fedorenko, who said her father had spent 20 years in a labor camp as a political prisoner under Soviet dictator Josef Stalin, said the new fines have silenced people in the village where she has a country house.
"The people in that village all hate Putin, but they are terrified of losing what they have," Fedorenko said. "They can't pay that 300,000 rubles (more than $9,000)" fine.
The number of protesters has declined since the anti-Putin demonstrations in the months ahead of the March presidential election, which drew as many as 100,000 onto the streets in the dead of a Moscow winter. But a turnout of tens of thousands on May 6 -- and again on Tuesday -- was still impressive in a country where such political protests attracted no more than a few hundred people only several months ago.
Some of Tuesday's protesters marched under the banners of liberal, leftist or nationalist groups. Others came with groups of friends or co-workers. Young couples pushed baby carriages, and gray-haired men and women supported themselves with canes.
"You can't scare all of us, and if you take away one of us, dozens will come in our place," liberal activist Ilya Yashin told the crowd.
Yashin was among the several opposition leaders who were questioned. He was released just in time to speak at the end of the six-hour demonstration.
You can't pretend that we don't exist," he said. "A foolish, irresponsible government is fighting the protesters."
In his Russia Day speech, Putin made some unusually conciliatory comments about the unprecedented challenge to his 12-year rule. He said the differing points of view about the future of Russia were to be expected in a "free, democratic country."
"Therefore, it is important to listen and respect one another, to strive for mutual understanding and to find compromise, to unite our society around a positive agenda," Putin said at the Kremlin ceremony.
He also spoke of the need for stability and said any actions that could divide society or lead to social unrest were unacceptable.
The Kremlin appears to see anti-corruption blogger Alexei Navalny as the biggest threat among the protest leaders. His interrogation lasted more than six hours and then investigators drove him to his office to conduct another search, after spending 12 hours turning his apartment upside down on Monday. The homes of his parents and in-laws also were searched. Navalny was to be questioned again on Wednesday, along with the leftist Sergei Udaltsov, who snubbed the summons, saying he considered it his duty to lead the protest as one of his organizers. Yashin was told to report to investigators again on Friday.
Investigators also searched the apartments of Udaltsov, Yashin, TV host Ksenia Sobchak, and on Tuesday of veteran opposition politician Boris Nemtsov.
The spokesman for the investigators, Vladimir Markin, said they found more than $1.25 million and $480,000 in cash at Sobchak's apartment and investigators were looking into whether she had paid her taxes.
Sobchak, a glamorous 30-year-old socialite, insisted that she had done nothing wrong and was keeping her savings at home because she doesn't trust banks. The authorities are likely to use the piles of cash to paint the opposition as a bunch of spoiled rich kids at odds with the majority of Russia's population.
The questioning of the opposition leaders and the raids on their homes were connected to the May 6 protest, which ended in fierce clashes between police and protesters. Police had been unprepared for the huge crowds and had restricted access to the rally site. Some opposition activists said the violence was provoked by pro-Kremlin thugs.
On Tuesday, police stood by quietly as protesters marched from Pushkin Square down a series of boulevards to a broad downtown avenue where the rally was held.
"Those in power should feel this pressure. We will protest by any means, whether peacefully or not," said Anton Maryasov, a 25-year-old postgraduate student. "If they ignore us that will mean that bloodshed is inevitable."
Two leading sources of information on opposition activities, cable television station TV Rain and Ekho Moskvy radio, saw their broadcasts interrupted Tuesday by a series of apparent hacker attacks. Industry experts said that hackers working at the Kremlin's behest have targeted independent news websites in the past.
Tuesday's rally was the first since the quick passage last week of the new law that raises fine for taking part in unauthorized protests 150-fold, to nearly the average annual salary in Russia. Tuesday's protest had city approval, but if demonstrators had tried to take a different route or stayed beyond the designated time, police would have had a pretext to detain them.
Udaltsov urged protesters to march across town after the rally to the Investigative Committee's headquarters to demand the release of political prisoners, but he apparently was persuaded against this.
Many in the crowd seemed reluctant to risk arrest. "I'm not ready to enter into a conflict with the law, even if these laws are questionable," said Alexei Moiseyev, a student.
Nemtsov, speaking after Udaltsov, urged the demonstrators to act within the law. "We must act in a responsible way, peacefully and calmly," he said.