Thousands march in Colombia to support peace efforts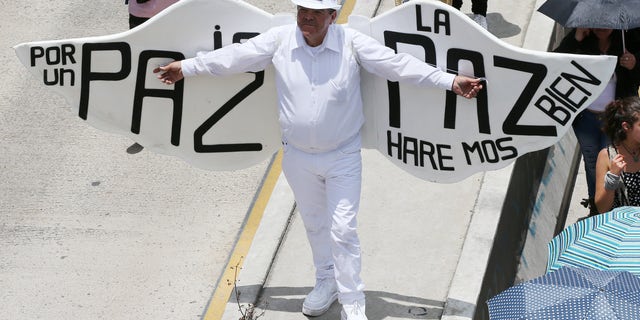 NEWYou can now listen to Fox News articles!
BOGOTA, Colombia (AP) – Colombia's president on Thursday extended a suspension of air attacks on the country's main rebel movement amid a day of marches in support of peace.
Thousands of marchers waved white flags and paraded through cities across the country to support peace talks between the government and guerrillas and pay tribute to victims of the nation's half century of conflict.
President Juan Manuel Santos led more than 8,000 people through Bogota, marching alongside victims who suffered at the hands of leftist rebels and right-wing paramilitary groups.
Speaking at the presidential palace, Santos announced a one-month extension of the order he gave in March that the military suspend air attacks on camps of the Revolutionary Armed Forces of Colombia
The two parties have been in negotiations in Havana since 2012 on ending their conflict. A new round of talks begins Friday.