The Latest: Merkel calls Berlin election result 'bitter'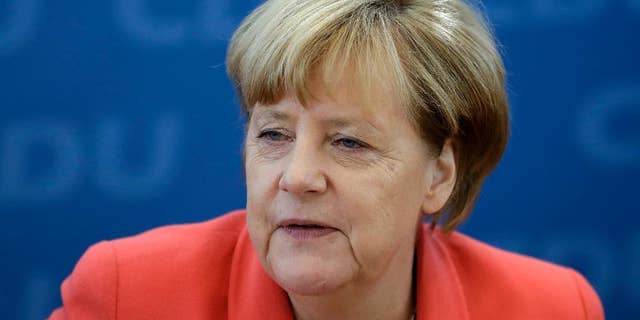 NEWYou can now listen to Fox News articles!
BERLIN – The Latest on Berlin state election (all times local):
1:50 p.m.
German Chancellor Angela Merkel says she takes responsibility for her party's poor showing in Berlin state elections on the weekend.
Speaking Monday alongside her Christian Democratic Party's Berlin mayoral candidate Frank Henkel, Merkel called the election result "bitter."
She said though voters were dealing with many local issues, she conceded that her decision to open the borders to hundreds of thousands of migrants was also a factor, and "I take responsibility as party leader and chancellor."
She says among other things that she needs to work harder to explain her migrant policies.
___
10:40 a.m.
A three-way coalition of Social Democrats, the Green Party and the Left Party seems likely in Berlin, after Chancellor Angela Merkel's conservative party endured a set-back in state elections in the German capital.
While the Social Democrats (SPD) and Merkel's Christian Democratic Party (CDU) emerged from the Berlin election as the two strongest parties, both lost some support which means they won't be able to continue a coalition government, official results showed Monday.
The SPD received 21.6 percent, dropping 6.7 points, while the CDU received 17.6 percent, down 5.7 points.
Many voters drifted further to the left and right, with the Left Party climbing 3.9 points to 15.6 percent.
The nationalist anti-immigrant Alternative for Germany, known as AfD, easily entered its 10th state parliament with 14.2 percent of the vote.