The Latest: Iran's Rouhani, Turkey's Erdogan talk protests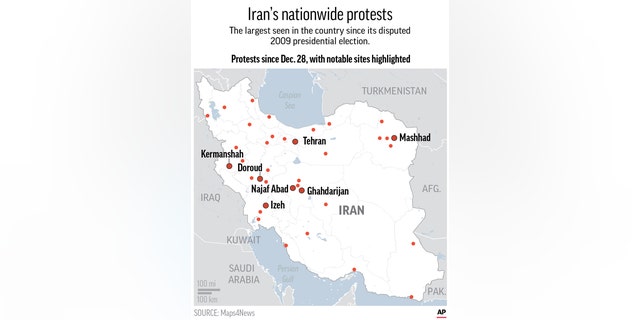 TEHRAN, Iran – The Latest on protests in Iran (all times local):
2:10 p.m.
Turkish officials say Iran's President Hassan Rouhani told his Turkish counterpart Recep Tayyip Erdogan that he hopes the protests that have hit Iran "will end in a couple of days."
Officials in Erdogan's office say the two had a telephone conversation on Wednesday during which Erdogan stressed the importance of stability and calm.
Erdogan also reiterated that Turkey back's Rouhani's statement in which he upheld Iranians' right protests but urged them not to violate laws. Erdogan's office said Rouhani thanked Erdogan and told him that he hoped the protests would end "in a couple of days."
Turkey and Iran have grown closer as they work together to try and end the conflict in Syria. Rouhani met with Erdogan in Istanbul last month on the sidelines of an Islamic nations' summit, voicing strong opposition to the U.S. administration's decision to recognize Jerusalem as Israel's capital.
___
11 a.m.
Iranian state TVs are airing footage of pro-government demonstrations in cities across the country after a week of protests and unrest over the country's poor economy.
The English-language broadcaster PressTV broadcast the rallies live on Wednesday, saying they were to "protest the violence that has taken place over the last few nights in cities."
Demonstrators waved Iranians flags and signs supporting Iran's clerically overseen government.
The rallies come after Iran's Supreme Leader Ayatollah Ali Khamenei on Tuesday blamed days of protests across the country on meddling by "enemies of Iran." State TV reported on Tuesday that the latest clashes between protesters and security forces have killed nine more people.
The demonstrations are the largest seen in Iran since its disputed 2009 presidential election. At least 21 people have been killed.