The Latest: Hamas praises deadly truck attack in Jerusalem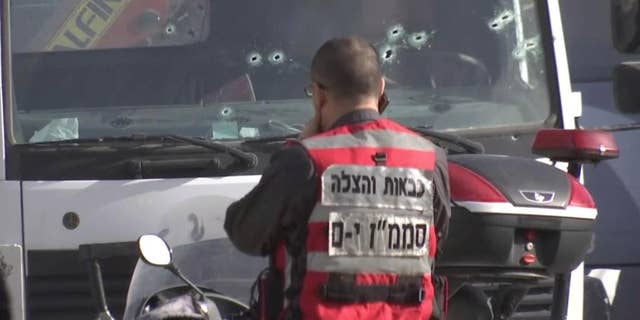 JERUSALEM – The Latest on a truck-ramming attack in Jerusalem that killed at least four Israelis (all times local):
3 p.m.
The Palestinian Hamas movement is praising a truck-ramming attack in Jerusalem that killed four Israelis, but does not claim responsibility.
Hamas spokesman Abdul-Latif Qanou called it a "heroic" act and encouraged other Palestinians to do the same and "escalate the resistance." Qanou says Sunday's attack proves the wave of Palestinian violence has not ended, despite a recent lull. He says "it may be quiet, it may linger, but it will never end."
Hamas, which rules the Gaza Strip, is pledged to Israel's destruction.
A truck rammed into a group of Israeli soldiers who were disembarking from a bus in Jerusalem, killing four people and wounding 15 others.
It ranks as one of the deadliest in a more than yearlong wave of Palestinian shooting, stabbing and vehicular attacks against Israelis that had slowed of late. Sunday's incident marks the first Israeli deaths in three months.
___
2 p.m.
Israeli police say a truck has rammed into a group of soldiers in Jerusalem.
Police spokeswoman Luba Samri says the truck veered off course Sunday and struck a group of soldiers who had just disembarked from a bus. She says the attacker has been neutralized.
Israel's rescue service MDA says at least 15 soldiers have been wounded, including two critically.
Since last year, Palestinian attackers have killed 36 Israelis and two visiting Americans in a series of mostly stabbing attacks. During that time, 229 Palestinians have been killed by Israeli fire. Israel says most of the Palestinians killed were attackers while the rest died in clashes.
Israel says the violence is driven by Palestinian incitement. Palestinians say it's the result of nearly 50 years of Israeli occupation