The Latest: Germany seeks common stance for talks with UK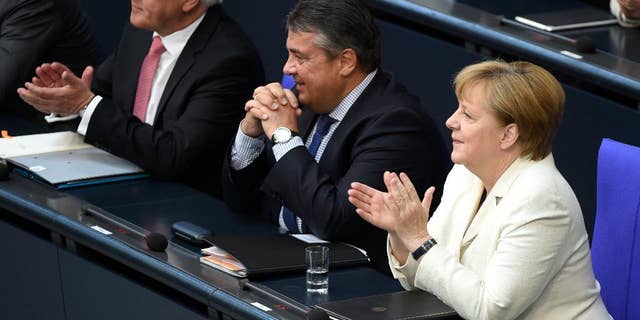 NEWYou can now listen to Fox News articles!
LONDON – The Latest on Britain's vote to leave the European Union (all times local):
10:30 a.m.
Germany's foreign minister says the remaining 27 members of the European Union need to agree on a common stance ahead of formal talks on Britain's exit from the bloc.
Frank-Walter Steinmeier says "we now need a process in which we determine the shared position of the 27" before an informal summit of EU leaders mid-September.
Speaking Friday after meeting with his Irish counterpart, Steinmeier cited the question of how to deal with Ireland and the United Kingdom's land border as one example of future issues to tackle.
Irish Foreign Minister Charles Flanagan said his country "remains firmly at the heart of Europe" and 43 years of membership had contributed to its prosperity and progress.
Flanagan said freedom of movement was particularly important for people along both sides of the border.
___
9:55 a.m.
Consumer confidence in Britain has taken a dive in the wake of the country's decision to leave the European Union.
In a one-off survey to gauge the impact of the referendum result, market research firm GfK says its core index of consumer confidence dropped by 8 points to minus 9 in July. The decline was the biggest in 21 years.
The survey also shows that sentiment has sunk among both those who voted to remain in the EU and those who voted to leave. The measure for so-called "remainers" was minus 13, while "leavers" were slightly more optimistic at minus 5.
The online survey of 2,002 respondents was conducted between June 30 and July 5. The referendum on June 23 saw 52 percent voting to leave the EU.