Thai soccer team trapped in cave may have to scuba dive out, but none can swim
Rescuers in Thailand attempting to free a youth soccer team trapped in a cave for 11 days are working to determine their best option: keep the team in the cave for up to four months while water levels drop, or teach the boys how to scuba dive.
None of the boys know how to swim, The Wall Street Journal reported.
The other option-- waiting it out-- could leave the boys stuck in the cave until October.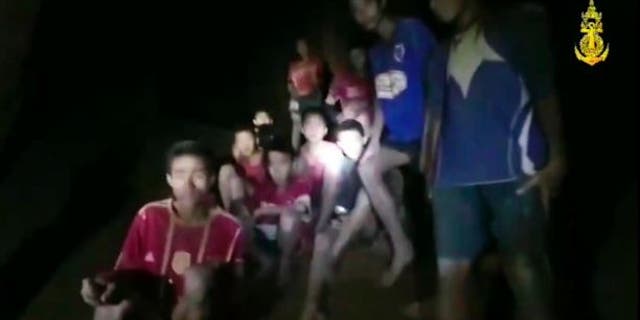 The team entered the Tham Luang cave complex in Chiang Rai province on June 23 with their 25-year-old soccer coach, just after practice had ended. The boys were taking part in some sort of "initiation" ritual, in which they would carve their names on the cave wall.
More rain forecasted for this week has increased the urgency to teach the boys to dive, as a rise in water levels could make supplying the team with food, water and medicine more difficult, the report said.
The focus remains on draining the water from the cave to the point where it would make navigating the twists and turns and an attempted rescue easier, according to the paper.
As of Wednesday, the boys had been practicing wearing diving masks and breathing, Chiang Rai provincial Gov. Narongsak Osatanakorn said, although he doesn't believe they have attempted any practice dives.
Other potential options include scouring the mountainside for a backchannel into the cave, as well as finding faster ways to pump water from the cave.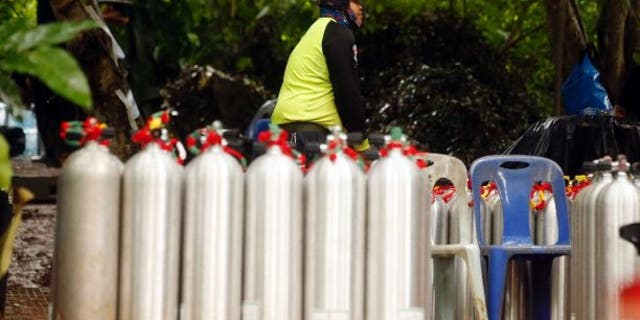 If rescuers decide to have the boys stay put until the rainy season ends, there is a danger of a buildup of carbon dioxide, according the paper.
Despite the harrowing ordeal, the youngsters appear to be in good spirits as they introduced themselves and stated that they were healthy in a video released by the Thai navy SEALs on Wednesday.
A flashlight illuminated the faces of the young soccer team, many of whom were wrapped in foil warming blankets. The players took turns introducing themselves. The boys showed glimpses of smiles throughout the brief video, which was recorded sometime Tuesday and posted to Facebook on Wednesday.
Engineers were working Tuesday to provide the team with a telephone line so they could communicate with family members, according to the Journal.
Narongsak said it is unlikely a rescue attempt to get the boys out of the cave will happen Wednesday, as "it has to be 100 percent safe."
"If it's risky or not safe, we will not proceed yet," an offical said.
Fox News' Nicole Darrah and The Associated Press contributed to this report.