Thai police sweep scenic island of Koh Tao in hunt for killer of 2 British tourists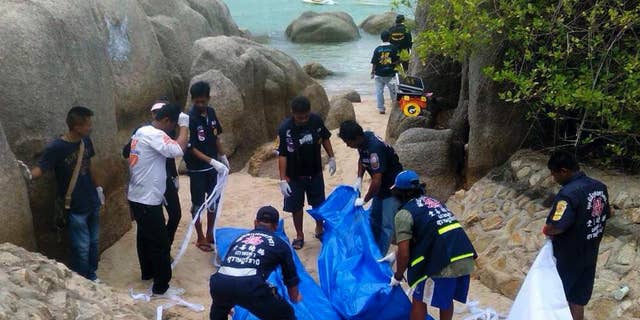 BANGKOK – Police on the scenic resort island of Koh Tao in southern Thailand conducted a sweep of hotels and workers' residences Tuesday searching for clues into the slayings of two British tourists whose nearly naked, battered bodies were found on a beach a day earlier.
More than 70 police officers were deployed to Koh Tao, a popular diving destination in the Gulf of Thailand, as the country's leaders called for a swift investigation into a pair of brutal killings that marked a new blow to Thailand's tourism industry.
"This should not have happened in Thailand. It will affect our image in the eyes of international countries," said Prime Minister Gen. Prayuth Chan-ocha.
Defense Minister Prawit Wongsuwan said police were working "to make an arrest as soon as possible."
The bodies of Hannah Witheridge, 23, and David Miller, 24, were discovered Monday morning in a rocky alcove along the shore close to the hotel where they were staying.
Both had deep wounds and gashes to the head and face that police believe were inflicted by a bloodied hoe found near the bodies.
The pair traveled to Koh Tao with friends and met each other on the island while staying in neighboring rooms at Ocean View Bungalows, said police Maj. Gen. Kiattipong Khawsamang.
"They went out to a bar and left together after 1 a.m. (Monday), according to closed circuit TV camera footage," he said.
Police have released still images from surveillance cameras in the area. One showed what police said were the two victims walking together hand-in-hand. Another image from later in the morning showed a single man walking in the same direction.
Police said the man looked Asian and was considered a prime suspect, but investigators were pursuing several leads.
"We are focusing on migrant workers because of the surrounding witnesses and evidence, including the video footage," Kiattipong said. "We are sweeping hotels, bars, businesses and residences of migrant workers on the beach to find the suspect."
Another police official, Col. Prachum Ruangthong, said investigators were also looking for a group of bar employees and had questioned a group of foreigners as well.
"This morning we surrounded three locations, including the residences of migrant workers, to search and collect DNA," Prachum said Tuesday.
On Monday night, about 100 local residents gathered on Sairee Beach for a candlelit vigil and said prayers for the young British couple close to the spot where their bodies were found.
The bodies of Witheridge, from Great Yarmouth, Norfolk, and Williams, from Jersey, Channel Islands, were being sent Tuesday to forensic police in Bangkok.
The attack came amid government efforts to revive Thailand's tourism industry after a military coup in May ended prolonged, sometimes violent political protests. Martial law remains in effect in many parts of Thailand.
Koh Tao, which is about 410 kilometers (250 miles) south of Bangkok, is known as a quiet, small and scenic island. It's a short boat ride from the better-known resort islands of Koh Samui and Koh Phangan, the latter known for its raucous "full moon" parties that attract young travelers from Thailand and abroad.
___
Associated Press Writer Jocelyn Gecker contributed to this report.