Terror suspect whose flight certificate was linked to Saudis one of Gitmo's most dangerous
One of Guantanamo Bay's most dangerous and longest-held terror suspects is a Saudi national who knows how to fly planes and build sophisticated bombs, speaks fluent English and remains committed to killing Americans, say former U.S. officials who dealt with Ghassan al Sharbi face-to-face.
Revelations last week that Al Sharbi's flight training certificate, tucked into a Saudi Arabian Embassy envelope, had been found in 2003 among a trove of documents buried in Pakistan following his arrest there, raised fresh questions about the Kingdom's possible involvement in the Sept. 11, 2001, terror attacks. Although Al Sharbi, who trained with several of the 9/11 hijackers at an Arizona flight school, did not take part in the attacks, he is seen as one of the most lethal and committed terrorists held at the military base.
"In my view, Ghassan al Sharbi was one of the most dangerous men held in U.S. custody at Guantanamo Bay," said retired Army Maj. Gen. Jay Hood, who oversaw the detention facility. "I knew him well and my assessment is informed by a number of direct interactions I had with him between 2004 and 2006. He is extremely intelligent, well educated, and committed to a violent Islamic ideology."
"In my view, Ghassan al Sharbi was one of the most dangerous men held in U.S. custody at Guantanamo Bay."
Al Sharbi's record, training, testimony and connections to the Al Qaeda terror network that killed 3,000 Americans on 9/11 have largely been kept secret, but some details were quietly released last year in a top-secret report called "Document 17" that was declassified by the FBI. The report alluded to the discovery of his flight certificate inside an envelope from the Saudi Embassy in Washington, buried outside a Pakistani safehouse where he was captured by local forces on March 28, 2002. Information about the certificate was released in a 47-page work plan prepared for the FBI in June 2003 but not declassified until last July.
Born in Saudi Arabia, the 41-year-old terrorist is particularly dangerous, military officials and government documents said, because he speaks fluent English, has a degree in electrical engineering from an American university, took flying lessons with the 9/11 terrorists who crashed a plane into the Pentagon and is a proficient bomb maker.
No photo is available of Al Sharbi, who has been held at Guantanamo Bay since June 19, 2002.
The Guantánamo Review Task Force suggested in 2010 that Al Sharbi be prosecuted for war crimes, but that hasn't yet occurred in the nearly 14 years he's been held by U.S. forces.
"I suspect he is still being held because he is being considered by the Military Commissions for prosecution," Hood said. "But I also suspect that those in the Intelligence community realize the potential threat he would pose as an operational planner and leader to any violent Islamic group. He is extraordinarily committed to his religion, and to using violence to combat capitalism in the Western world."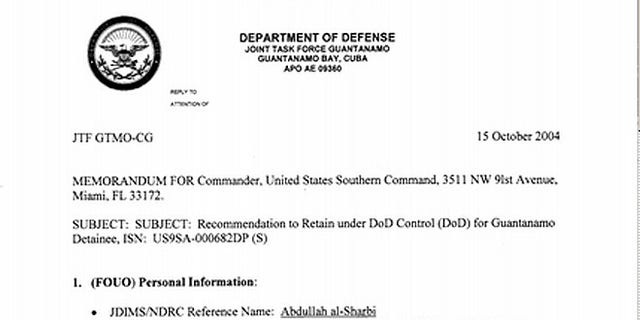 The Obama administration has released dozens of detainees from Guantanamo Bay, which once held more than 600 terror suspects but now holds around 80. Al Sharbi ranks with 9/11 mastermind Khalid Sheik Mohammad as one of the facility's longest-held and most dangerous residents, according to Brian McGlinchey, director of 28Pages.org, a website that supports the movement to declassify documents believed to link top Saudi officials to the 9/11 hijackers.
"He's been deemed a high-risk individual who allegedly attended a training camp in Afghanistan and is a self-proclaimed bomb-maker," said McGlinchey, a former Army officer whose website was the first to report on Al Sharbi's flight certificate being found. "Other detainees told interrogators Al Sharbi had been seen talking to Usama bin Laden, was very proficient with weapons and had been selected for specialized remote control detonation training."
Al Sharbi was captured in Pakistan in 2002 along with Abu Zubaida, whom the U.S. government at one time believed was a top Al Qaeda lieutenant but later concluded was not.
Al Sharbi has never hidden his terrorist intentions.
"I am your enemy, I will fight the United States. Period," he told a military judge, according to Paul Rester, who headed military intelligence, interrogation and analysis at Guantanamo on and off from 2002 until 2010.
"He was very forthcoming and very determined," said Rester. "He was not in the planner-organizer echelon, he was in the executor-operator echelon. He made bombs, had direct ties to Bin Laden, and had sway over others because of that tie. He was extremely important to his terrorist network because he was well-trained and could make things work."
The buried documents, which were recovered by the FBI, included manuals on bomb-making and other explosive devices, and are included among thousands of items confiscated from suspected terrorists being held at Guantanamo that filled a 2,000-square-foot room.
Born in Jeddah, Saudi Arabia, in 1974, Al Sharbi lived in Arizona from 1998 to 2000 while studying electrical engineering at Mesa Community College and then at Embry Riddle Aeronautical University in Prescott, Ariz., in the months preceding 9/11. One of the founding members and president of the Islamic Student Society at Embry Riddle, he abruptly left the school in August 2001, and traveled to Pakistan with stops in Saudi Arabia, Dubai and the United Arab Emirates.
Known in Al Qaeda circles as the "electronic builder," government reports say he was trained and taught others to produce circuit boards for use in remote-controlled car bombs, IEDS and other detonation devices that would be used to kill American soldiers and to help build remote-control devices that could be placed in the United States and detonated by a mobile phone from Pakistan.
In 1999, Al Sharbi and another suspected Al Qaeda operative were involved in an incident that caused a Washington-bound flight to be diverted and was mentioned in the 9/11 Commission report. The other man, who was flying with Al Shari, tried to enter the cockpit, which the commission concluded may have been an intelligence gathering operation to test in-flight security measures in preparation for the attacks that would come two years later.
Since he first entered Guantanamo, Al Sharbi's behavior has been "generally non-compliant, often showing signs of aggression," according to a report Hood completed while head of the facility. The 2004 report detailed an incident in which Al Sharbi assaulted a guard and numerous cases in which he led fellow detainees in creating disturbances.
"It has been determined that the detainee poses a high risk, as he is likely to pose a threat to the U.S., its interests and allies," Hood wrote.
In his own testimony before a military tribunal in 2006, Al Sharbi, who goes by several alias including Abdullah al Muslim, Abu Muslim, Ghassan Abdallah Ghazi al Shirbi and Abdullah al Sharbi, said he must "defend the Islamic nation."
"I came here to tell you I did what I did and I'm willing to pay the price," he said, according to a Reuters pool reporter. "Even if I spend hundreds of years in jail, that would be a matter of honor to me.
"I fought the United States; I'm going to make it short and easy for you guys: I'm proud of what I did."
The Obama administration has pledged to close Guantanamo Bay's detention camp and release, return to their country of origin or place the remaining detainees in facilities on U.S. soil. His proposal continues to garner opposition from military leaders and Republicans, who say releasing some of America's most dangerous enemies will lead to more American lives lost.