Taliban ambush kills 14 Afghan troops as violent clashes continue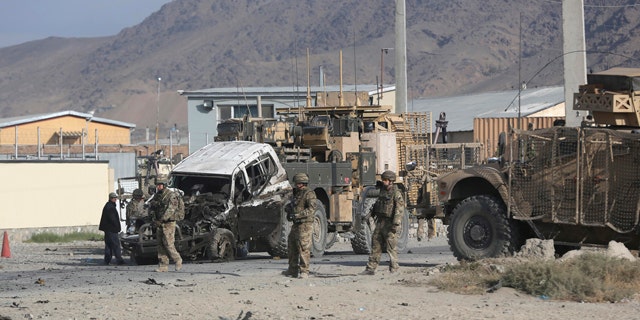 KABUL, Afghanistan – A mountain ambush by Taliban fighters killed at least 14 Afghan security force troops, authorities said Monday, as villagers elsewhere in the country alleged a NATO airstrike that the coalition said targeted militants actually killed civilians.
The fighting in Sari Pul province, as well as the disputed NATO airstrike in eastern Paktia province, show the serious challenges facing new Afghan President Ashraf Ghani Ahmadzai. Former President Hamid Karzai repeatedly clashed with NATO forces over civilian casualties from airstrikes, straining relations as public anger against the coalition grew.
The ambush in Sari Pul, where Taliban fighters reportedly have been massing for days, happened Sunday in its Kohistanat district. There, militants opened fire on an Afghan Army unit heading back to the capital after several months being deployed there, killing 12 soldiers and two police officers, said Kazim Kenhan, a spokesman for the provincial police chief.
Kenhan said 13 troops and four police officers were wounded and six troops are missing after the ambush there, some 210 miles northwest of the capital, Kabul.
"A very intensive gun battle is going on right now and the casualty number might change overnight," Kenhan said Monday. "It is a mountainous area and very difficult to reach. We do need air support as we requested from the international forces, but they didn't help us."
In Paktia province, hundreds of villagers protested over their allegation that a NATO airstrike killed seven civilians in an operation NATO said killed "eight armed enemy combatants."
The protesters brought seven corpses to the governor's office there, claiming they were civilians killed Sunday during a NATO airstrike in a mountainous area on the outskirts of the city of Gardez. The villagers said the strike targeted eight people collecting firewood and left one man wounded.
"From the evidence it seems that all seven who have been killed in the airstrike of the coalition forces are civilians, but this needs to be investigated more to find out why and how this incident has happened," said Abdul Wali Sahee, deputy provincial governor of Paktia province.
Sahee said that there was a dead body of a 12-year-old boy among those brought to the provincial capital.
Protesting villagers shouted slogans against the foreign forces that have been in the country since the 2001 U.S.-led invasion. They demanded the Afghan government prevent such attacks in their area.
In a statement, NATO said a "precision strike resulted in the death of eight armed enemy combatants."
"No civilian casualties or damage to structures occurred during this operation," NATO said.
Ghani Ahmadzai's office had no immediate comment on the airstrike.
Taliban insurgents have stepped up attacks against Afghan security forces in a bid to undermine the Western-backed government as most foreign combat troops prepare to withdraw from Afghanistan by the end of the year. The Afghan government has signed a security deal with the United States and a separate agreement with NATO allowing over 10,000 foreign troops to train and advise Afghan forces after the international combat mission ends at the end of the year.
Separately Monday, a suicide bomber targeted a NATO convoy in Kabul while another struck an Afghan army patrol in the eastern Nangarhar province, killing three civilians in the separate assaults, authorities said.