Taiwan's navy launches surface-to-air missile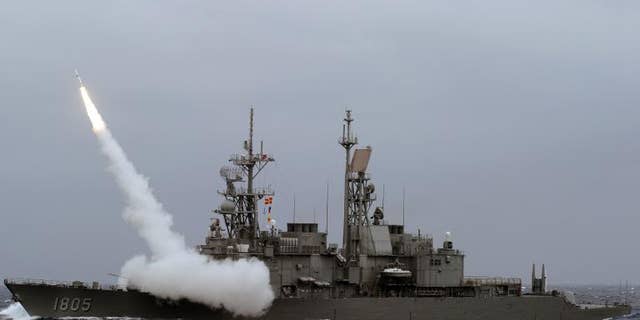 ABOARD THE ROCS SU AO (Taiwan) (AFP) – Taiwan's navy launched its premier surface-to-air missile from the deck of a warship Thursday, its first test of the weapon in six years, destroying a drone simulating a Chinese air attack.
The US-made Standard II missile, fired from the Kidd-class Makung destroyer, soared into the skies over the ocean dozens of miles east off Hualien, eastern Taiwan, hitting the drone, according to the navy.
Artillery were also used in the drill, codenamed "Sea Standard", that simulated a Chinese strike on the Taiwanese fleet.
"Standard II is very stable. There is no need to fire the costly weaponry every year to verify its reliability," Admiral Wen Chen-kuo told AFP from the nearby Su Ao destroyer, citing its success six years ago in a similar naval manouevre.
Each Standard II missile costs around $3 million. With a range of over 130 kilometres (81 miles), it provides warships with a more comprehensive and longer-range air defence capability.
Currently, only four 10,000-tonne Kidd-class destroyers, the biggest warships of Taiwanese navy, are armed with the regional air defence weaponry.
Due to bad weather, Taiwan's military had to call off some of the exercises.
Taiwan and China split in 1949 at the end of a civil war.
Tensions between them have eased markedly since 2008, after Ma Ying-jeou of the China-friendly Kuomintang party came to power. He was re-elected in January 2012.
China has repeatedly threatened to invade Taiwan should the island declare independence, prompting Taiwan to keep modernising its forces and conduct regular military drills.