Syrian Troops Seize Control of City After Intense Gunfire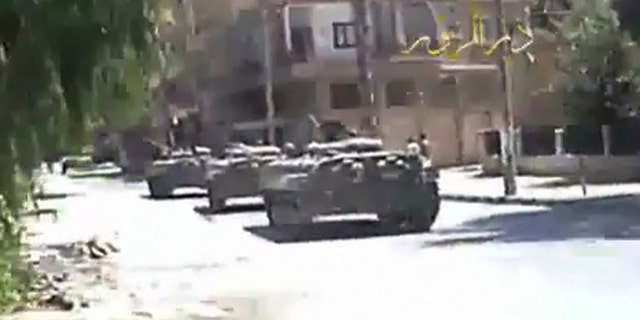 NEWYou can now listen to Fox News articles!
HAMA, Syria – The streets of Hama were deserted on Wednesday and the city in central Syria that has come to symbolize defiance against the regime appeared to be under full government control after last week's brutal crackdown on protesters.
To the east, troops seized control of another flashpoint city, Deir el-Zour, after four days of intense shelling and gunfire.
The government took journalists on a tour to see a rare glimpse of Hama, a city of 800,000 which has seen some of the largest anti-government protests of the 5-month-old uprising.
About 50 armored personnel carriers were placed on flatbed trucks heading out of the city after a weeklong military assault that the government said was aimed at rooting out "terrorists." The government blames the unrest in Syria on foreign extremists, a claim dismissed by most observers.
Cement and metal barriers blocked streets and soldiers were removing some of the barricades. Piles of uncollected garbage littered the streets. At the southern entrance of the city, a two-story police station was burnt.
"We have finished a delicate operation in which we eradicated terrorists' hideouts," an army officer told reporters.
During last week's siege, witnesses gave a far different story, telling The Associated Press that the government shelled residential areas and snipers deployed on the rooftops, killing up to 250 people.
Hama was the scene of a 1982 massacre by President Bashar Assad's father.
Syria has blocked nearly all outside witnesses to the violence by banning foreign media. It also has restricted local coverage that strays from the party line that the regime is fighting thugs and religious extremists who are acting out a foreign conspiracy.
Rights groups say about 1,700 people have been killed across Syrian since March, and an aggressive new military campaign that began with the Muslim holy month of Ramadan a week ago has killed several hundred.
An activist in Deir el-Zour, who spoke to the AP by telephone on condition of anonymity for fear of reprisals, said the regime had taken over the city and the military was "shooting anything that moves."
"The situation is terrible," the activist said. "Bakeries and pharmacies are closed, while food and baby formula are scarce."
Syrian troops also launched another operation in three suburbs of the capital Damascus as well as the northwestern village of Sarmin, near the Turkish border, where a woman was killed and three people wounded, said the London-based Syrian Observatory for Human Rights.
Security forces also killed an activist in the northwestern town of Taftanaz, where the army is conducting a military operation, the observatory said.
With the situation growing bleaker in the country, Assad came under a new barrage of international pressure Tuesday with the Turkish foreign minister urging him to stop killing protesters and U.S. officials saying the Obama administration is preparing to explicitly demand his departure.
Assad rebuffed them, telling Syria's state-run news agency the government will be relentless in its pursuit of "terrorist groups" to safeguard stability and security in the country.
Envoys from India, Brazil and South Africa met Wednesday with Foreign Minister Walid al-Moallem who explained to them that army entered some Syrian cities after "armed groups carried out acts of killing and sabotage," according to state-run news agency, SANA.
Al-Moallem added that Syria is intent to carry out reforms and national dialogue that will pave the way for "political pluralism and democracy."