Syrian troops clash with rebels for second day in town forcing residents to flee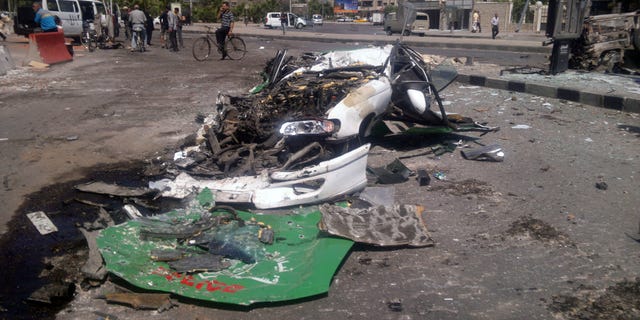 BEIRUT – Syrian troops clashed with rebels in the city of Aleppo for a second day Saturday, forcing inhabitants to flee to safer areas in some of the fiercest fighting to date in a key bastion of support President Bashar Assad, activists said.
The rebels are trying to seize the momentum after a week of battles in the capital, Damascus, including a bombing that struck at the heart of the regime, killing four high-level officials.
Two days of clashes in Aleppo's Salaheddine district brought sustained fighting to the city's center for the first time since the uprising began in March 2011.
The city, a commercial hub and Syria's largest population center, has remained largely loyal to Assad and been spared the kind of daily bloodshed that has plagued other cities.
But Aleppo-based activist Mohammad Saeed said dozens of fighters from the rag-tag Free Syrian Army entered Aleppo from the countryside and were fighting regime troops from inside.
"This night was very bad, there were huge explosions and the gunfire didn't stop for several hours," Saeed said via Skype. "The uprising has finally reached Aleppo."
Damascus and Aleppo are both home to elites who have benefited from close ties to Assad's regime, as well as merchant classes and minority groups who worry their status will suffer if Assad falls.
But for months, rebels have been gaining strength in poorer towns and cities in the Aleppo countryside, gaining footholds near the Turkish border.
Activists and residents reported a tense calm in Damascus Saturday, although sporadic gunfire and explosions could be heard.
Two residents who did not want to be identified for safety reasons said by telephone that the fighting peaked between 1 a.m. and 3 a.m. local time.
One of the residents said most shops in the capital were closed Saturday and traffic was light.
Authorities have set up checkpoints at the entrances of Damascus in an effort to separate it from rebellious suburbs, and the resident said many grocery stores and vegetable vendors were unable to get supplies.
Piles of rubbish were starting to pile up in many parts of the city.
"The tension is palpable, people are scared about what might be coming," the resident said by telephone from the upscale middle class Mazzeh district. "A lot of people are just staying at home."
The Britain-based Syrian Observatory for Human Rights and a Damascus-based activist said two people were found dead in the Midan district after regime forces stormed their apartment. The activist, who gave his name as Omar al-Dimashqi, said the pair had been stabbed with knives, but that could not be independently confirmed.
Syrian forces recaptured the battle-scarred neighborhood on Friday and proudly showed reporters the dead bodies of rebel fighters lying in rubble-strewn streets.
The fighting in Damascus has sent thousands of Syrians pouring into neighboring Lebanon and Iraq.
Iraqi officials said about 1,000 nationals had left in eight flights from Damascus over the last two days to escape the escalating civil war. Thousands more poured through a land crossing despite the rebel takeover of a major Syria border post
Capt. Saad al-Khafaji of the state-owned Iraqi Airways said Iraqi authorities sent four airplanes to Damascus airport Saturday to evacuate Iraqis stranded in the Syrian capital.
"The planes are waiting for Iraqi passengers, but few are showing up at Damascus airport," he said, adding it was due to difficulties in reaching the airport because of the violence.
Anger has been building inside Aleppo at the government's deadly crackdown on the uprising and in recent months, huge anti-government demonstrations have broken out, particularly among students at Aleppo University.
In May, Syrian forces stormed student dormitories during an anti-government protest at the university, firing tear gas and bullets in an hours-long siege that killed four students and forced the closure of the state-run school.
The Local Coordination Committees activist network and the Britain-based Syrian Observatory for Human Rights said the fighting that began Friday in Aleppo forced many residents to flee to safer areas.
An amateur video posted online by activists showed Aleppo residents walking with bags of belongings or packing into cars and driving away.
Another video showed protesters pounding an iron bust of Assad's late father, Hafez, with rocks in an attempt to break it. The videos could not be independently verified.
Syrian authorities did not comment on the fighting in Aleppo. State-run news agency SANA said Syrian forces overnight thwarted several infiltration attempts by "armed terrorist groups" from Lebanon at Talkalakh in the suburbs of the central Homs province. The regime refers to the rebels as "terrorists" instead of opposition elements seeking reform.
Clashes caused grave losses among the ranks of the terrorists, it said, without elaborating.
In Homs, regime forces shelled rebel held districts, part of a monthslong effort by the government to recover those areas. Amateur videos showed shells falling on the Jouret al-Shayah district in Homs, and at least two homes in apartment buildings on fire.